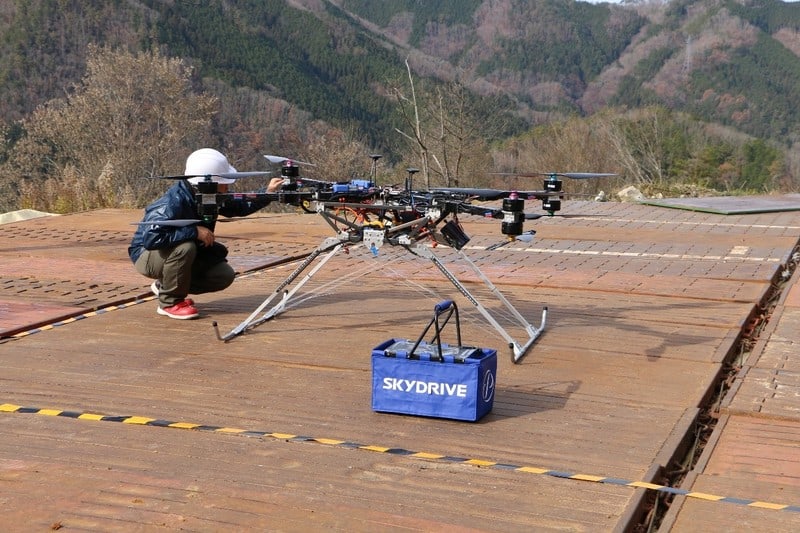 SkyDrive have successfully tested its heavy lift cargo drone with a load capacity of 30kg. Tests were carried out in December in Toyota City, Japan, with additional testing scheduled.
Designed to move heavy equipment in remote locations, it is hoped that the cargo drone will one day be used in industries carrying heavy materials over complex terrain for example; mountainous engineering and construction sites, and agricultural fields. SkyDrive's contribution could be valuable in addressing Japan's labor shortages due to its declining population.
With the potential to achieve greater capacity loads of up to 50kg and 80kg depending on demand, SkyDrive's cargo drone could help avoid dangerous works, save personnel and reduce timescales. There is also the potential to revolutionize the way products are relocated between manufacturers, warehouses and depots.
Chief Executive at SkyDrive Tomohiro Fukuzawa said: "We are delighted to successfully test this world-leading technology. Our cargo drone has proven to deliver by safely lifting loads of up to 20kg in a mountainous area — saving time and money. We look forward to expanding on this success by testing heavier loads for customers in the future."
Basic specifications include:
Total length 1.3m x total width 1.7m x total height 1.0m
Recommended payload: 30kg
Flight speed: 40km/h
Flight time: 15min.
Winch mechanism to move up and down without landing
Find manufacturers of multirotor, heavy lift drones for professional applications >>