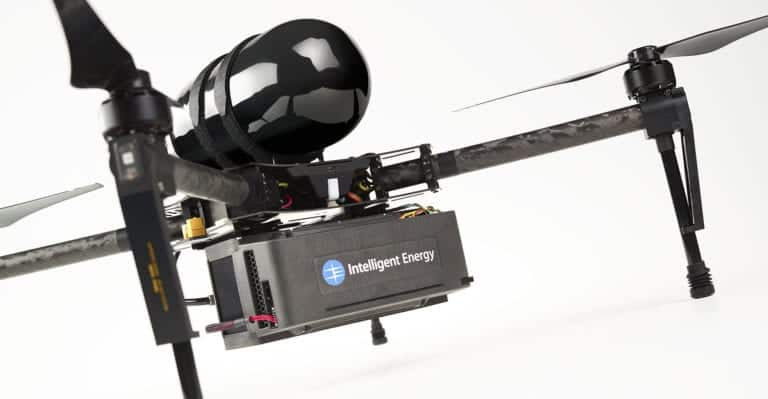 Intelligent Energy, a developer of PEM (proton exchange membrane) fuel cell technologies, has announced that the company plans to demonstrate its lightweight Fuel Cell Power Modules for unmanned aerial vehicles (UAVs) to commercial drone operators. These private flight demonstrations will utilise a DJI M600 quadcopter drone, and will be held in California, Tokyo, South Korea and selected locations across Europe.
For the demonstrations, the battery of the DJI M600 will be replaced with two of Intelligent Energy's 800W fuel cell power modules (FCPMs), linked in series using a Power Path Module (PPM). This configuration provides 1.6kW of continuous power to the aircraft with flight times of up to two hours, and is suitable for multirotor UAVs with 15kg maximum take-off weight and payloads of up to 4kg.
In addition to witnessing the fuel cell technology in action, attendees will also have the opportunity to gain advice on the best fuel cell configuration for their particular drone fleet requirements, as well as information on refuelling and hydrogen cylinder options.
Lee Juby, Chief Sales Officer at Intelligent Energy, commented: "These events are being held in response to requests from potential customers who want to understand how they can transition and integrate fuel cell power products into their existing fleets. Customers understand the benefits but are not always sure how the technology could work for them."
"The first flight and meet the team event will be held in Sunnyvale, California next month. We will show a game-changing solution to power UAVs for three to four times longer than the equivalent battery power. We are flying the DJI M600 in this instance as it is widely used in the commercial UAV market, but our power products are also suitable for a number of fixed wing or VTOL UAVs where the gains in flight time are significantly longer again. We are currently the only fuel cell provider that can supply off-the-shelf power products to this market for this size UAV."
Intelligent Energy has also recently launched a 2.4kW FCPM, designed for UAVs up to 25kg maximum-take-off-weight with payloads of up to around 7kg. This system is capable of a 120 minute-plus flight time.