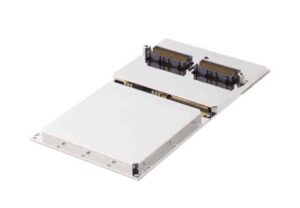 Abaco Systems, a developer of embedded computing solutions for aerospace and defense applications, has announced the launch of a new XMC graphics and video capture board. The rugged NVP2102 leverages the 768-core NVIDIA Pascal P2000 GPU, which features 4 gigabytes of GDDR5 memory and 2.3 TeraFLOPS of peak performance, as well as support for both CUDA and OpenCL.
The NVP2102 has been developed for battlefield unmanned aerial vehicles (UAVs) and other platforms, and provides graphics/video processing input/output for a wide range of applications including situational awareness, signals intelligence (SIGINT), ISR and radar. A direct interface to the host computer and video capture direct to GPU memory make the system particularly useful for electronic warfare applications in which minimal latency is essential. The NVIDIA Pascal's parallelism also makes it suitable for GPGPU applications including machine learning and autonomy.
The NVP2102 supports Abaco's AXIS ImageFlex, an image processing and visualization toolkit for rapid development of applications for size, weight and power (SWaP) constrained platforms. AXIS ImageFlex is focused on high performance GPU processing and graphics, and features interoperability with other programing interfaces such as OpenGL, OpenCL, CUDA and OpenCV.
Find suppliers of embedded computing solutions for unmanned applications >
The NVP2102's I/O capabilities include:
Four 3G-SDI inputs, capable of 1080p60
Two 3G-SDI outputs, capable of 1080p60
Two DisplayPort 1.4 ports capable of 4K resolution @ 60Hz
VGA
Support for H.265 (HEVC)/H.264 (MPEG-4 AVC) encode/decode
The board meets the MIL-STD-810G standard, specified to -40°C to +85°C in its conduction-cooled form and -40°C to +70°C in its air-cooled form.
"We believe that the XMC form factor is perfect for the power- and space-constrained environments that typify today's armored vehicles, fighter aircraft, submarines and unmanned platforms – but until now, they have not offered the processing capability necessary for the most advanced graphics and video applications," said Peter Thompson, Vice President, Product Management at Abaco Systems. "The NVP2102 changes that, leveraging the capabilities of NVIDIA's state-of-the-art GPU technology to deliver the functionality and performance that would have previously required a separate graphics card."