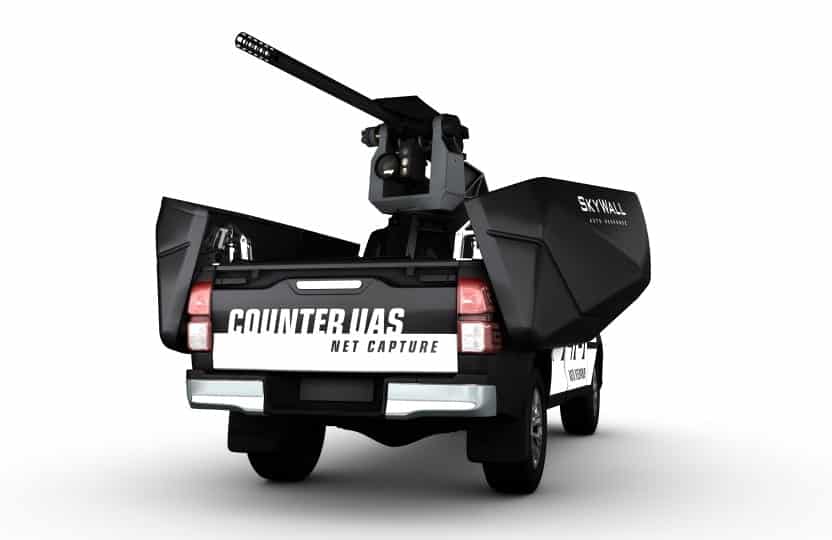 OpenWorks Engineering, a developer of security and counter-terrorism technologies, has announced the release of a new vehicle-mounted unmanned aerial vehicle (UAV) capture system, which the company claims is the world's first such product. SkyWall Auto Response enables security forces to provide counter-drone protection to large areas, and uses OpenWorks Engineering's proven SkyWall net capture technology. The system will be formally unveiled at the DSEI 2019 conference in London.
The SkyWall Auto Response system is mounted on a vehicle that is intended to look like an average commercial vehicle. It is discreetly hidden under quickly and easily deployed covers. Upon detection of a rogue UAS, the system can be deployed automatically while the vehicle operator manoeuvres rapidly as required.
Openworks' automatic UAV capture technology was originally developed in conjunction with the company's partner Antmicro. SkyWall Auto Response marks the first mounted deployment of the technology. The SkyWall system has already been proven at fixed sites under military testing conditions, and has demonstrated the ability to stop fast-moving multirotor drones as well as fixed-wing UAVs. A handheld version of the system, SkyWall100, has already been deployed globally with law enforcement and military users.
"Offering a vehicle response unit is something we have planned for some time now and is something our customers tell us they need. The dedicated team of engineers is developing our technology portfolio further, and we hope to make more significant product development announcements soon," commented Chris Down, Managing Director of OpenWorks Engineering. "The OpenWorks team is excited to be at DSEI with SkyWall Auto Response and would encourage anyone with an interest in counter drone to contact us and visit the display to discuss the SkyWall products further."