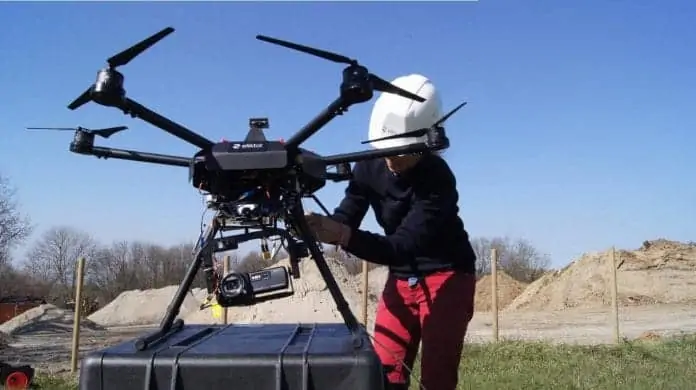 Elistair has confirmed that its Safe-T tethered drone system has been deployed in the suburbs of Lyon, the second largest metropolitan area in France, to aid in monitoring vehicle traffic congestion.
Due to an increasing number of vehicles on roadways, better traffic management and planning have become imperative. For authorities and industries, it remains difficult to deploy static measure sensors in urban areas due to high costs and constraints on implementation and human resources. With the deployment of a single UAV (unmanned aerial vehicle), it is possible to efficiently gather and analyse data to understand road-user behaviour, analyse trajectories and detect anomalies, and gain a more comprehensive look at traffic nodes in order to foresee robust action plans.
Elistair tethered solutions offer continuous and real-time aerial video-stream, allowing persistent data collection and technical analysis adjusted to road traffic monitoring. A tethered drone is a compact tool, easy to transport and deploy, that gives access to various valuable traffic data: trajectories, speeds, behaviors, vehicle types etc. These data collections provide crucial information for individual end users, transport operators and public authorities, to anticipate and solve today's complex transport and haulage challenges.
One flight of 3 hours with a single pilot was carried out, monitoring one busy suburban roundabout in the French city of Lyon, at rush hour. All the flights were performed located ahead of the roundabout with the pilot controlling the tethered drone supplied with the Safe-T station. The drone was carrying a standard video-camera, a standard Sony digital PJ810 Full HD handycam. This shows the simplicity of the set-up necessary for traffic monitoring. During the entire monitoring session at peak traffic time, the live video streaming allowed the pilot to precisely control the video frame focusing on the zone of interest around the traffic circle.
Using the DataFromSky traffic analyser, the Elistair tethered solution collected data in order to detect and classify all the different types of vehicles, tracking buses, cars, medium vehicles, heavy vehicles and motorcycles. It was also possible to analyse each individual vehicle trajectory, as the whole road data collection is fully processable.
To find out more about this use case highlighting traffic monitoring with tethered drones, download this PDF from Elistair's website.