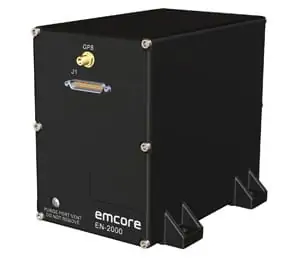 EMCORE Corporation, a provider of advanced mixed-signal optics products, has announced the addition of the EN-2000 to the EMCORE-Orion series of Micro Inertial Navigation (MINAV) systems. The new EN-2000 will represent the pinnacle of performance in EMCORE navigation systems and features a closed-loop, solid-state design that will deliver higher performance at lower cost than traditional RLG (Ring Laser Gyroscope) navigation systems.
The EMCORE-Orion series of Inertial Navigation Systems (INS) are ideal for use in a broad range of defense, aviation and aeronautics applications, including unmanned aerial vehicles (UAVs) and other autonomous vehicles.
Traditional RLG navigation systems placed a premium on accuracy and performance, but not SWaP (Size, Weight and Power). Typical RLG and FOG systems are large and heavy, ranging in volume from 330 to 540 cubic inches, weighing 13 to 22 pounds with power requirements of 25 to 38 watts. Many modern weapon systems are now remotely operated, unmanned or man-portable and may need to operate where GPS is unavailable or denied. The compact EN-2000 is ideal for these applications. It puts a premium on accuracy and performance, but also on smaller size, less weight and lower power consumption.
The new EMCORE-Orion EN-2000 MINAV is a three-axis design utilizing the Company's proprietary, next-generation solid-state optical transceiver with advanced integrated optics, combined with all new Field Programmable Gate Array (FPGA) electronics to deliver stand-alone aircraft grade navigator performance at 1/3 SWaP of legacy or competing systems. The EN-2000 model comes in two standard versions, an IMU version and a standalone INS configuration. The INS version can gyrocompass to less than 0.7 milliradians and maintain near GPS level positional accuracy without the use of a GPS receiver. This makes it ideal for use in GPS denied environments. To provide customers with additional flexibility, the unit is also capable of being aided by an external GPS for applications where needed.
The EMCORE-Orion EN-2000 is very compact and lightweight, weighing less than 7 pounds, with very low power consumption of 10 watts. It can deliver twice the performance of the EN-1000, with the same form factor. The low SWaP of the EN-2000 makes it an ideal inertial navigation system for UAVs, as well as Unmanned Underwater Vehicles (UUVs), Unmanned Ground Vehicles (UGVs), manned aircraft, rotorcraft and dismounted soldier applications.
"With the introduction of the EN-2000, EMCORE can now offer class-leading performance at a fraction of the size, weight and power of competing systems with increased reliability," said David Faulkner, EMCORE's Vice President and General Manager of Aerospace & Defense. "EMCORE's goal of a true full navigation system that can replace older technology navigation systems in UAVs, UUVs, UGVs, manned aircraft and rotorcraft is fully realized with the introduction of the EN-2000."
"Our EMCORE-Orion series micro navigators improve dramatically on the size and cost of navigation and azimuth sensing equipment by utilizing affordable lightweight sensors that reduce overall system weight and increase accuracy," added Dr. K.K. Wong, Sr. Director of Fiber Optic Gyro Products for EMCORE. "The digital interface is also fully programmable at EMCORE's factory enabling it to directly replace competing units."