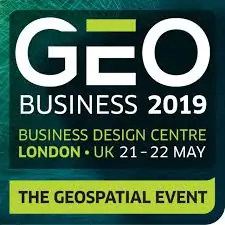 This year's GEO Business Show (21-22 May) in London includes a-free to-attend half-day Strategic Conference plenary session. Attracting a slate of high level thought leaders and opinion formers drawn from across the geospatial business spectrum to address the growing awareness of the concept of the Digital Twin. In addition,  as mobile devices become ever more powerful in the age of the Internet of Things (IoT), they query "when does cool become creepy?"
The conference opens with a hard-hitting keynote from the Geospatial Commission's CEO, William Priest. Described as "a hands on, strong and visible leader and communicator", he will introduce and explain  the Commission's Strategic Plan for the UK* followed by an interview with conference chair, Denise McKenzie. Denise, is Executive Director of Communications and Outreach at the Open Geospatial Consortium (OGC). She will open the debate with an introduction to the subject and offer some conclusions in her closing remarks.
What is the Digital Twin?
To address this emerging concept and its tangible benefits, a panel of leading players in geospatial will ask, how far are we from making it a reality? They include:
Simon Navin, a chartered surveyor and Head of Innovation Programmes at the Britain's mapper, Ordnance Survey. His team focuses on emerging markets like Autonomous Vehicles, 5G, Smart Cities, the Internet of Things and the Digital Twin.
Matt Leaver is Technical Director GIS & Geospatial, Arcadis and chairs the Association for Geographical Information (AGI) in championing the use of geographic information through advocacy, thought leadership, skills and standards development.
Richard Kelly is Operations Director, buildingSMART International, a worldwide authority driving the transformation of built assets through creation and adoption of open, international standards.
Dr Anne Kemp, Fellow and Technical Director: BIM, Geospatial and Digital Engineering, Atkins, has been working in the industry for 25 years, delivering information to where it is needed for informed and intelligent decision making.
When does cool become creepy?
The power of the IoT and mobile devices offer exciting opportunities to make lives easier, reduce energy usage, insurance premiums or make homes and cars safer. But when does technology stop being beneficial and instead become a creepy intrusion? When does location tracking become location stalking? What role should government and standards bodies play to provide boundaries to protect and reassure citizens? A panel of technology thought leaders drawn from key players include:
Ed Parsons, Geospatial Technologist, Google Inc. Ed works to evangelise geospatial data for commercial application and consequently, to improve the usability and efficiency of location based tools
Leigh Dodds is Director of Advisory at the Open Data Institute. Leigh is passionate about creating products that can make a difference.
Alex Wrottesley, Head of Geovation, Ordnance Survey, is an entrepreneurial leader and a passionate believer in the power of open innovation methodologies to engage, extend and deepen relationships between organisations and their customers.
Ben Scott-Robinson is the founder of The Small Robot Company, describing himself as a digital innovator. His company is crafting three small robots and nurturing their dream to save the world!
Free-to-attend seminar session dedicated to UAVs
In the UAVs seminar session taking place on Tuesday 21st May, under the chairmanship of Graham Brown, CEO, ARPAS delegates will learn how UAVs support data capture in architecture, mining, highways, emergency services and heritage. And by tethering, they can provide sustained aerial coverage of a site.
Tobias Wentzler, EBusiness Development Manager, Europe, DJI GmbH gives an overview of the drone industry and the market, while Paul Bryan, Geospatial Imaging Manager, Historic England discusses Drones for heritage – their use and application at Historic England where uses include survey to provide low-level aerial views of sites, high-level condition survey information and as a complimentary input for laser scanning .
In "Why on Earth Would You Want to Tether a Drone?" Toby Townrow, Co-Founder and Communications Director, Drone Evolution discusses the advantages of sustained aerial coverage of a site during emergency response and other applications.
Geoff Pugh, General Manager, Consortiq discusses the challenges of Drones: Innovation vs Regulation, and Jim Morris, Operations Director, Drone Surveying looks at Drone mapping meets the survey world. Combined with surveying on the ground, accurate datasets can build a topographical survey, measure stockpiles and areas of cut-and-fill and manage soil movement around a construction site.
In "How is Drone Based Photogrammetry Disrupting the Geospatial Industry, and what does the Future look like?" James Dunthorne, Director Standards, ARPAS explains the current capabilities, the cutting edge cases, challenges and the future.
In other seminars watch out for "How drones can be used in all environments" by Dr Pippa Malmgren, co-founder of H Robotics and a Top 100 Women in Tech; and Stephen Brooks, Senior Engineer, Network Rail on "Integrating UAVs with established earthwork examination processes".
To view the full programme visit: https://www.geobusinessshow.com/seminar-programme-and-commercial-workshops/schedule/
Alongside all of this is an international exhibition with over 200 exhibitors and dedicated Drone Zone area providing visitors with a chance to find out what's new in the world of drones and engage directly with geospatial drone manufacturers and suppliers. Visitors can also make the most of a full programme of commercial workshops, a strategic conference and various popular networking events.
*The new Geospatial Commission sits at the centre of government, to direct efforts across public-sector data bodies and to coordinate HMG's approach to geospatial data. The CEO is a new role created to help deliver this vision, and will oversee strategy, implementation and value creation.

GEO Business is the UK's No 1 geospatial event designed for everyone involved in the gathering, storing, processing and delivery of geospatial information. It features over 20 free-to-attend seminars, exhibitor led workshops and an international exhibition of over 200 leading companies and players. More at: https://www.geobusinessshow.com