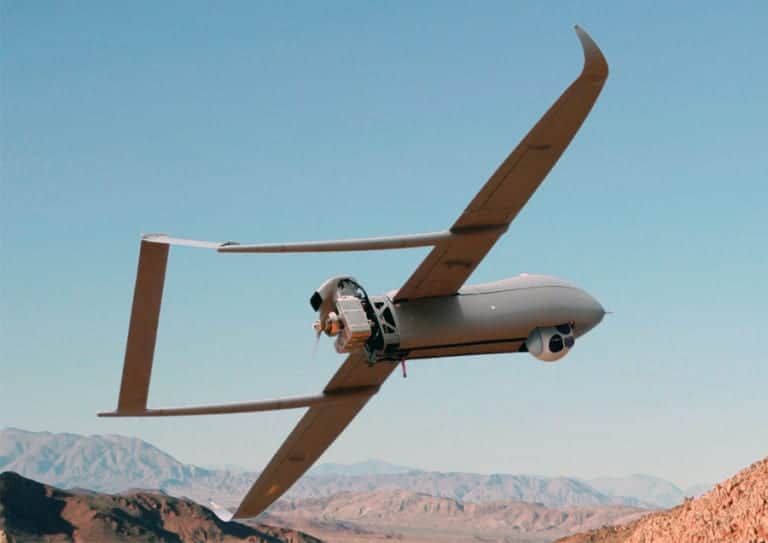 Textron Systems and IMSAR have announced the successful integration and demonstration of IMSAR's NSP-3 Synthetic Aperture Radar (SAR) system on Textron Systems' Aerosonde Small Unmanned Aircraft System (SUAS). The combination of the expeditionary Aerosonde platform with the all-weather, day-and-night NSP-3 radar system enables advanced intelligence, surveillance and reconnaissance capabilities in a variety of austere locations and extreme weather conditions.
Textron Systems and IMSAR quickly and easily performed the mechanical integration of the NSP-3 radar system into the Aerosonde aircraft, with radar electronics in the fuselage payload bay and an externally mounted antenna pod. Software integration included the ability to send radar flight plans directly to the Aerosonde operator. During multiple flights, the fully integrated system demonstrated day-and-night operations, collecting high-resolution SAR, Coherent Change Detection (CCD) imagery and Moving Target Indication (MTI) detections and tracks. The demonstration included precise cross-cueing of the Aerosonde platform's full-motion video system from MTI targets that were detected and tracked by the radar system, highlighting the NSP-3 radar system as a sensor and platform multiplier.
"Textron Systems has spent the past several months conducting various Aerosonde demonstrations, as part of our commitment to continuously upgrading and advancing the system," said Textron Systems Senior Vice President & General Manager David Phillips. "This latest integration demonstrates an added SAR capability, which we are excited to offer to authorized customers, and further extend the system's flexibility and capability."
Textron Systems Aerosonde SUAS, which has accumulated more than 300,000 flight hours of operational maturity, offers proven multi-mission performance in land- and sea-based applications. The Aerosonde is equipped for real-time, full-motion video and communications relay within a single flight, day or night. The Aerosonde system features a range of 75 nautical miles, 200 watts of available payload power, more than 14 hours of endurance, distributed manned/unmanned teaming capability and is deployable in 20 minutes or less.
IMSAR's NSP-3 multi-mode radar system combines operationally proven NanoSAR technology with a small size, weight, and power form factor. The NSP-3 can produce high-resolution SAR imagery, CCD, MTI, as well as maritime surveillance in all weather, day or night.