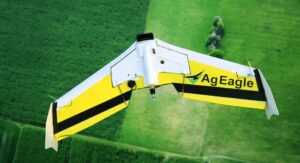 AgEagle Aerial Systems, Inc., a provider of advanced drone imagery-based data collection and analytics solutions for the sustainable agriculture and precision farming markets, has announced that it will extend the powerful reach and capabilities of its proprietary FarmLens™ platform to mobile devices with the launch of its new FarmLens™ mobile app.
Originally designed as a PC-based system, the FarmLens™ platform has processed more than 1.3 million acres of crops, analyzed data from over 50 countries and 53 different crop types, and has created nearly 11,000 comprehensive crop reports for its users since inception. Among its robust feature set, the new mobile app will provide AgEagle's customers with direct access to highly-valued FarmLens™ capabilities through any mobile device, enabling users to:
Plan a full day of drone-image collection, pilot their drone(s) and review actual flight details;
Convert drone images into crop health indicators;
Directly input data for sustainability scores – in fact, users can access their sustainability scorecard in real-time enabling them to visualize the impact of individual field decisions on their overall sustainability objectives;
Upload chemical application receipts to enable efficient tracking of products when digital application data layers are not available;
Upload field scouting images to the FarmLens™ platform;
Access real-time weather conditions and satellite imagery;
Export auto-created zone maps; and
Seamlessly share actionable data with other members of their team in real-time across both mobile and standard messaging platforms.
"Our FarmLens™ platform has long proven to be a vital resource to farmers and agribusinesses as they continuously look to improve crop yields and enhance their sustainability efforts," said AgEagle CEO Barrett Mooney. "We felt it was prudent to provide our customers with even easier access to FarmLens™ through a mobile app, while retaining the same critically important features and functionality of the platform. The ability to seamlessly share data with other members of the team should also prove to be a valuable asset to our customers as they can now collectively utilize actionable data in real-time while they're still on the field."
Continuing, Barrett noted, "Many growers and agribusinesses have been demanding simplified access to high level insight of their sustainability initiatives in the same manner that they retrieve information about commodity prices and weather data – on their phones and other mobile devices. Consequently, we believe that the introduction of the FarmLens™ mobile app will be well received by the industry, and ultimately prove to be an invaluable tool for streamlining the delivery of information necessary for growers to improve their crop yields and share insight and perspective with their supply chain, all without additional or redundant data entry that is often required."
The new FarmLens™ mobile app is expected to launch in March 2019 and will be available for download on any iPhone, iPad or Android device.