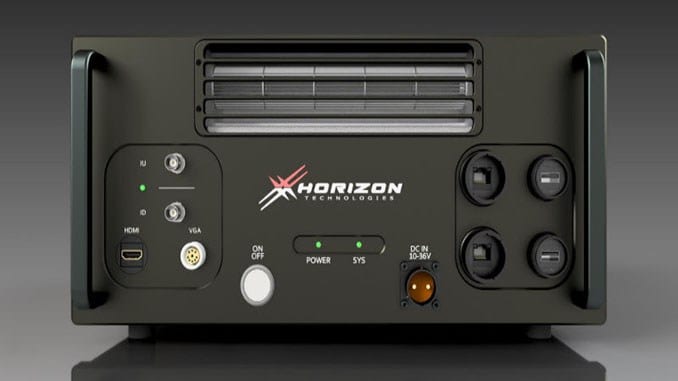 Horizon Technologies has announced the release of a new version of its FlyingFish 3 Airborne Satphone monitoring product, the FlyingFish 3/SI, which monitors Iridium Satphones from unmanned aerial vehicles (UAVS) as well as manned aircraft.
"Current NATO and Allied customers have been asking us for a fully airborne (DO-160) qualified system to monitor the Iridium Network in addition to Thuraya and ISatPhone Pro networks already covered by our current product line," said John Beckner, the founder and owner of Horizon Technologies. "They asked and we listened. Our FlyingFish 3/SI product adds a fully qualified and proven module designed for off-the-air interception of Iridium communications."
The new Iridium module monitors and intercepts voice, SMS, call data (2.4 Kbps), Short Burst Data (SBD) service, Iridium pager and the location of Iridium Satphones within line-of-sight of the aircraft. The system monitors both uplink and downlink signals so both sides of the call can be monitored (depending on interception conditions). All captured sessions and related data are stored in a database for offline analysis and playback. The Graphic User Interface of the new FlyingFish Tactical Interface (FTI) software displays the position of Iridium Satphones on the map together with the Thuraya and ISatPhone Pro Satphone locations.
The FlyingFish 3/SI product can be procured stand-alone or as an upgrade kit to existing FlyingFish systems deployed in the field.
Beckner added: "We are closing out a very successful 2018 with deliveries complete on a multi-million-dollar ISR program with one of the leading US Prime Contractors on a new business jet platform. Our Xtender SIGINT modules for the UAV and CubeSat markets are now flying on UAVs and product deliveries are expected to start in 2019. In addition, our new software is allowing aircraft primes to integrate FlyingFish into their airborne tactical mission systems just like they would any other sensor."