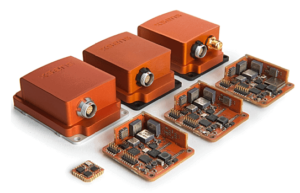 Xsens, a developer of inertial sensing technology, has released a technical whitepaper which explores the applications of motion tracking sensors and the technology that is used to deliver accurate control, navigation and stabilization.
The whitepaper looks in detail at the system architecture of the Xsens MTi range of motion trackers, the IMU signal processing pipeline, and Xsens Software Development Kit (SDK).
The paper goes on to present the tracking performance of Xsens MTi range of motion trackers for use in marine, land and airborne applications.
Read the full paper to learn more.
The Xsens MTi Motion Tracker product line has been designed for industrial applications. The unit has at its core a MEMS-based IMU combined with a triad of magnetometers in a lightweight (11 g for OEM version) small package (<15 cm3) with a power consumption of 480 mW to 650 mW for the MTi 10-series and MTi 100-series.
Read Xsens' extensive whitepaper, available as a free download, which explains more about the MTi System Architecture.