Inertial sensing technology specialist Xsens has released a case study expanding on the use of a 3D motion sensor by Underwater Robotics. Xsens' MTi-3 has been used in the development of a one-man-portable, tethered ROV capable of carrying out remote underwater video photography missions.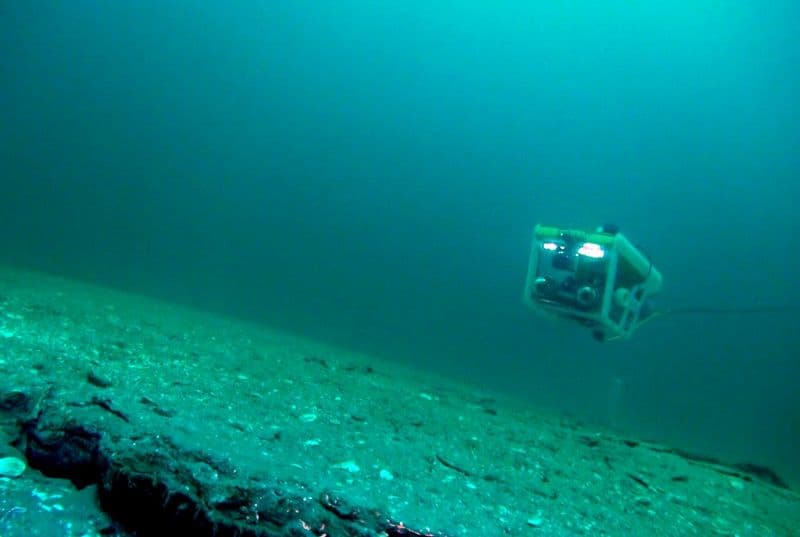 The deployment of divers to make underwater video recordings is difficult and expensive. It calls for professionals who are trained in two disciplines: diving and video camera operation. There are even some video inspection tasks – such as recording pictures of the inside of an undersea pipe – which are impossible for divers because the location is too dangerous and/or inaccessible to a person.
Russian manufacturer Underwater Robotics has developed a Remotely Operated underwater Vehicle (ROV) which can carry out video photography missions under the control of an operator who remains safe and dry on the surface of the water.
Underwater Robotics' GNOM-PRO, described as the world's smallest and lightest ROV designed for video recording missions, enables users to perform underwater visual inspections without the need for a diver. It also provides a safe way to view small or hazardous locations underwater.
Offering outstanding underwater dynamic characteristics, its motion is controlled simply with a joystick. And the key to its stability and ease of use is a 3D motion sensor from Xsens the MTi-3.
Complete motion-tracking module speeds development of ROV
Xsens' MTi-3 is a complete AHRS (Attitude and Heading Reference System) including gyroscopes, accelerometers and magnetometer in a 12.1 x 12.1 mm module. It includes Xsens' industry-leading sensor fusion algorithm, which maintains high accuracy over the sensor's lifetime, and performs sensor auto-calibration. The use of an integrated Xsens module enabled Underwater Robotics to develop the motion control system in the GNOM-PRO quickly. The module's calculated measurements of roll, pitch and heading are also easy to integrate into the GNOM-PRO's control software.
When choosing the motion sensor for the GNOM-PRO, Underwater Robotics also carefully considered its size and weight. An important feature of the ROV is that it can be carried by hand: the complete system including the ROV and its maximum 400m-long tether fits in two portable cases. The ROV itself measures 520 x 440 m x 347 mm and weighs 25 kg: this means that it can easily be transported to the site of a mission, launched and operated from almost any type of boat. Its compact size also means that it can be used in constricted spaces such as pipelines in which a conventional ROV will not fit.
The MTi-3 sensor's small size and light weight, less than 1g, were therefore highly attractive. Underwater Robotics' choice of the MTi-3 was as much about the sensor's dynamic characteristics. The GNOM-PRO is intended for use in monitoring and maintenance of marine and underwater installations such as:
oil production platforms
hydroelectric generation plants
ship hull inspection
monitoring functions in hazardous locations such as nuclear power plants.
Its use as a video camera platform calls for high dynamic stability to ensure that video images are not impaired by blur, shake or other image artefacts.
Maintaining stability in water
The GNOM-PRO's small size and light weight, however, mean that it is more strongly affected by the motion of waves and currents than a larger vehicle is. The MTi-3's high performance, including roll and pitch accuracy of ±0.5° under static conditions (±0.8° under dynamic conditions), enables the operator to maintain stable orientation. The GNOM-PRO also has an Auto-Heading Mode to enable the operator to set its direction of travel via an automatic setting controlled by the heading output from the MTi-3. In addition, the MTi-3 sensor's measurements of velocity, roll, pitch and yaw enable accurate dead reckoning from a known starting position, to establish the geolocation of the ROV.
Underwater Robotics decided to embed the MTi-3 in the GNOM-PRO ROV after exhaustive evaluation of the motion sensor market.
CEO of Underwater Robotics, Boris Rozman, commented; 'On every parameter which we considered important our evaluation pointed us towards the MTi motion tracker. It is a full-function motion tracker including sensor fusion software, but Xsens fits all the functionality into a small and light package, which is very important for a portable product such as the GNOM-PRO. But the small size does not compromise performance – the accuracy of the MTi-3's measurements are very good, and in conjunction with the depth measurements provided by a separate pressure sensor, allows the user to tag each frame of video with an exact geolocation.
The performance of the GNOM-PRO ROV with the MTi-3 sensor has brought us great success – the product is now in use around the world in countries including France, Italy, Germany, Spain, the US and India as well as Russia. That is why I am sure that we made the right decision to use the MTi-3.'
Learn more about the Xsens MTi-3 AHRS here.