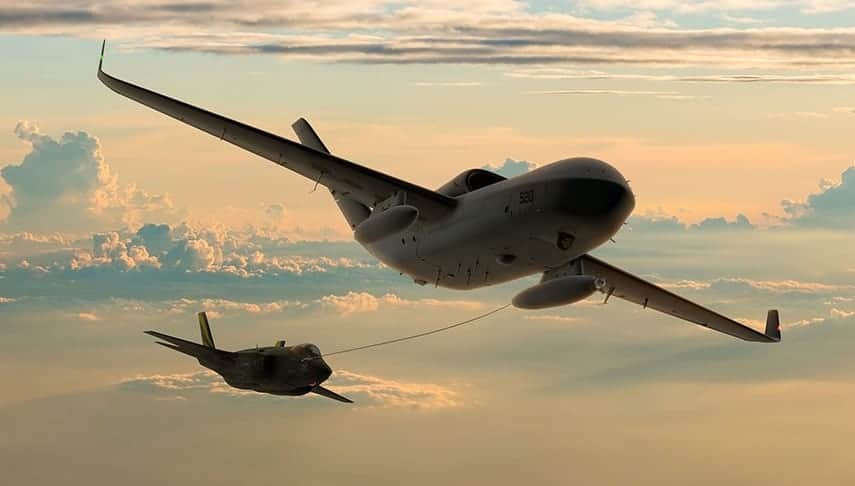 General Atomics Aeronautical Systems, Inc. (GA-ASI) has announced that it has completed its first powered run of the Pratt & Whitney (P&W) PW815 engine selected for the U.S. Navy's MQ-25 Stingray unmanned aerial refueling aircraft. The test, undertaken with the GA-ASI MQ-25A inlet and exhaust configuration, met all objectives and collected extensive data that the team is now evaluating.
"Through the superb efforts of personnel from both companies, we were able to move the test date forward by almost two months, from the originally scheduled date in late May," said David R. Alexander, president, Aircraft Systems, GA-ASI. "This is just another example of how we are working to reduce risk and accelerate capability. GA-ASI has a 14 year history working with P&W and selected the PW815 engine for the MQ-25 based on its exceptional performance and fuel efficiency. This performance and efficiency will subsequently translate into more available fuel for the receiving aircraft. Additionally, initial studies have shown the PW815 is well-suited for a carrier environment."
The rapid development of the engine test stand demonstrates the team's dedication to the principles of the U.S. Navy's Maritime Accelerated Capability Office (MACO). The test stand was commissioned at the beginning of 2018 and the first test run was ready three months later. A PW815 engine was delivered to GA-ASI's test facility on March 5th and by early April, the team successfully performed the first test.
"Through many years of working with GA-ASI, we are routinely impressed with the quality of work produced and speed at which it is accomplished," said Kinda Eastwood, senior director of F117 and Tanker Programs of Pratt & Whitney. "This engine run was no exception. It performed flawlessly and met all test requirements. GA-ASI continuously pushes the envelope to meet the objectives and timelines for their customers."