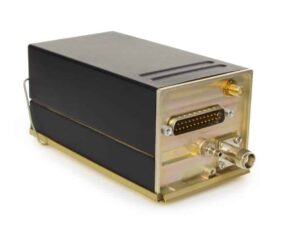 Trig Avionics has announced the launch of the TT26, a certified transponder that allows UAS (Unmanned Aerial System) platforms to meet ICAO international airspace surveillance standards up to 70,000 feet, as well as facilitating the industry's move towards BVLOS (Beyond Visual Line of
Sight) operations.
The TT26 is a one-box solution that includes Mode S and ADS-B Out, as well as a C145 GPS and certified altimeter. The complete unit is certified for use up to 70,000 feet and the built in altitude encoder saves additional space and weight. Both the GPS and altimeter can be used as primary flight sources, providing certified data to on-board auto-pilot systems.
Find suppliers of Transponders for UAVs >
Nigel Breyley, CEO of the International School of Unmanned and Remotely Piloted Aviation (ISURPA), said: "The future of the UAS industry will rely upon integration in shared airspace. This requires UAS pilots to up skill, holding the same high standards of airmanship and knowledge as conventional pilots and using equally high standards of equipment. The capacity to integrate Trig's TT26 in UAS platforms makes a significant and positive contribution to UAS safety. Adopting certified avionics has to be a good move for operators – it is also safer for other airspace users and critically should help win the confidence of air navigation service providers and regulators too."
UAS operations increasingly rely upon a robust safety case. ISURPA has endorsed Trig's TT26 transponder as a significant step towards building the case for BVLOS operations. Breyley continued: "Trig's latest transponder is unique, it reflects the high standards and requirements that ISURPA are seeking to promote across the industry. The TT26 provides a huge improvement to any safety case and also to operational capabilities at the same time – it reflects the increased professionalism we hope to see in this exciting and developing industry."
The unit weighs 485g and can be integrated into existing platforms and auto-pilots using RS232 and RS485 protocols.