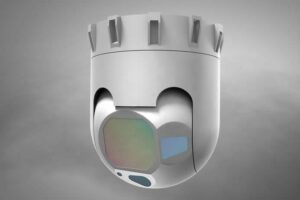 Raytheon Company has announced the development of a smaller, lightweight version of its Multi-Spectral Targeting System. The Compact MTS, a 12-inch turret weighing less than 60 pounds, is designed for exportability and will deliver high-performance electro-optical and infrared sensing performance for both manned and unmanned aircraft.
MTS sensors provide detailed intelligence data from the visual and infrared spectra in the form of high definition full motion video. The new compact version has the same imaging and targeting capabilities that have made the MTS product family, including MTS-A, MTS-B, MTS-C and MTS-D (AN/DAS-4), the sensor of choice for U.S. military imaging and targeting systems:
high definition sensors covering the spectral bands from visible to long wave infrared
diode pump laser designator/rangefinder
laser target marker
automated bore sight alignment
three mode target tracker
automated moving target acquisition
built in provisions for future growth
"The Compact MTS delivers capabilities of sensors nearly twice its size at half the weight, making it ideally suited for platforms where space is at premium," said Roy Azevedo, vice president of Intelligence, Surveillance and Reconnaissance Systems at Raytheon's Space and Airborne Systems. "We've taken more than 4 million combat flight hours of experience and packed them into a compact turret."
Raytheon has delivered more than 3,000 MTS systems on a wide range of platforms, including: remotely piloted aircraft like the MQ-9 Reaper, helicopters like the MH-60 Seahawk and fixed-wing aircraft like C-130J Hercules.
Find suppliers of Cameras, Imaging & Vision Systems for UAS >