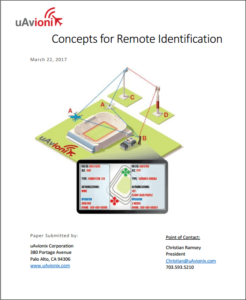 uAvionix, an avionics solution provider for sUAS, has produced a white paper in response to AUVSI's Call for Papers (CFP) on Remote Identification (RID) for Small UAS (sUAS). The paper presents core concepts of an Remote Identification (RID) solution which can be used both in and out of an internet-denied environment, fits the size and cost constraints of the industry, and provides a basic level of anti-spoofing capability.
Download the full whitepaper (opens in PDF).
The paper outlines a number of assumptions regarding the requirements for a RID solution, including: the purpose and funtions of the system, the transmitted data, SWaP and cost considerations, amongst many others.
uAvionix discuss in detail their concept technology:
The overall solution is architected to work with or without internet connectivity and provide maximum flexibility and deployment options. At its core, the following components establish the basic functionality.
1. Airborne RID transmitter which broadcasts sUAS position and operator identifying data.
2. Ground based RID receivers. Options for pocket-sized mobile receivers for roaming security personnel as well as permanently fixed receivers for persistent monitoring.
3. Mobile app or apps which can operate in an internet denied or internet available environments to provide sUAS position and operator identifying information to viewer, as well as connectivity to the FAA registration database, UTM service providers, and publicly trusted TLS/SSL certificate for anti-spoofing capabilities such as AirMap's Drone ID.
To read the complete white paper, download it here (opens in PDF).
With a product line consisting of Technical Standard Order (TSO) certified GPS receivers, ADS-B receivers and transceivers, and Mode A/C/S transponders, uAvionix has developed custom application specific integrated circuit (ASIC) solutions which range from 1 gram to 70 grams with transmit power outputs ranging from 0.01W to 200W. Find out more >