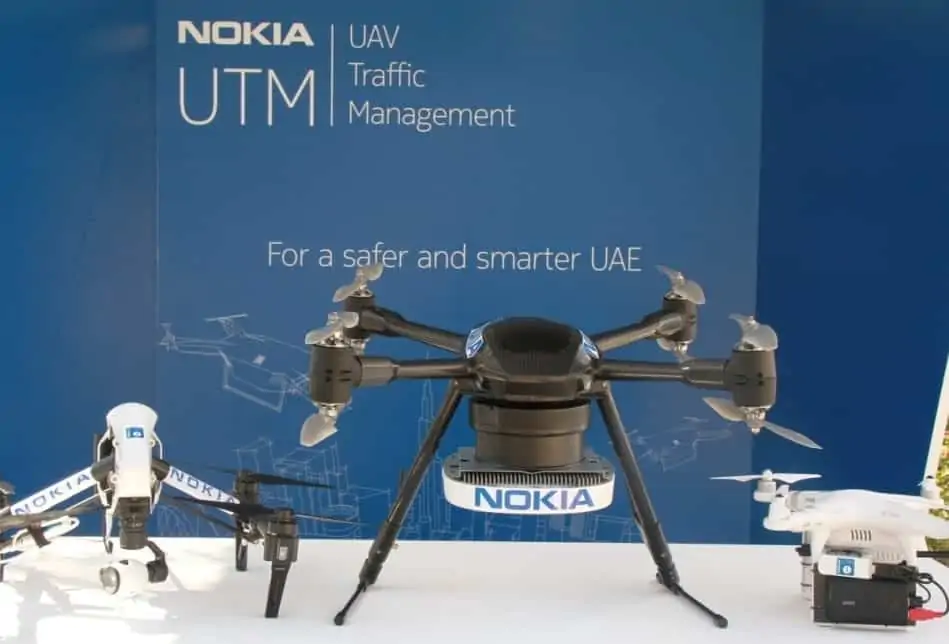 Nokia has announced that it has entered into a strategic collaboration with the United Arab Emirates General Civil Aviation Authority (GCAA) to drive the development of an end-to-end unmanned aircraft system (UAS) ecosystem that will make the UAE the first country in the world to allow the operation of drones by both businesses and government agencies in a safe, secure and managed environment. The project is part of an initiative by the GCAA to make Dubai one of the world's smartest cities by 2017, and will allow Dubai government security network operator Nedaa to develop a next generation network for mission-critical and smart city services within the GCAA regulatory framework.
At the heart of this new ecosystem will be Nokia's UAV Traffic Management (UTM) concept, which is being developed to manage drones in and around cities, and coordinate their interactions with people, manned aircraft and an increasingly diverse array of connected objects. The Nokia UTM system will provide capabilities such as automated flight permissions, no-fly zone control and beyond-visual-line-of-sight (BVLOS) that are critical for the safe operation of UAVs in densely populated urban areas. The ecosystem will also serve as a testing ground for various applications of drone technology, which can be explored in a safe and controlled environment.
Drones are quickly emerging as important tools for businesses and governments alike, providing substantial benefits such as infrastructure monitoring and maintenance, public safety applications, logistics and transport and many more. The GCAA has launched this initiative so businesses and local government can take advantage of these benefits, making the city smarter while minimizing any hazards that UAVs may present.
Nokia's UTM concept combines its expertise in 4G LTE and leadership in developing 5G and Mobile Edge Computing and related services – including managing the Network Operations Center, planning and optimizing the network for UTM connectivity and integrating UTM to other application platforms – to provide a platform that can support the extreme low latency and exceptional reliability and resiliency needed to manage UAV traffic. The system will be able to monitor airspace and flight paths, and share data between UAVs, operators and air traffic controllers and establish no-fly zones that can be continually refreshed with the latest data.
This agreement complements a recent Nokia initiative to establish and develop a UAV test facility at Twente Airport in the Netherlands.
Bernard Najm, head of the Middle East Market Unit at Nokia, said: "The UAE is committed to making Dubai the smartest city in the world, and UAVs are expected to play a critical role in this process by supporting a wide variety of smart city services. This collaboration with the GCAA, the first of its kind in the world, gives us a unique and extensive test bed where we can trial and refine our UAV Traffic Management system, and shape the future of UAV management overall. This is an exciting opportunity that builds on our strong relationship with the UAE to help facilitate its smart city journey."
Ismaeil Mohammed Al Blooshi, Assistant Director General of the UAE General Civil Aviation Authority, said: "We, as a civil aviation regulator, are pleased to partner with Nokia for such an innovative initiative for the UAE aviation sector and to build a safe and secure drone ecosystem. Being the number 1 aviation industry in the world with regard to safety standards, the UAE has superb aviation infrastructure and is qualified to play a key role in innovative aviation projects such as this drone collaboration."