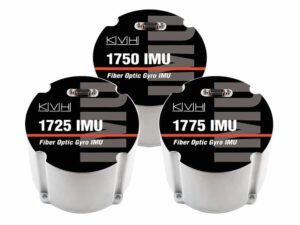 KVH Industries, Inc. (KVH), a developer of inertial sensing solutions, has announced that it is launching a webinar series focusing on the advantages and benefits of sensor fusion as used in specific real-world unmanned and autonomous systems.
Each webinar will feature discussions of how KVH's fiber optic gyro (FOG)-based inertial sensors have been integrated into successful navigation and control applications operating in subsea and maritime surface environments, in the air, and on land. KVH is sponsoring the webinars as part of IEEE's Tech Insider series, which features industry experts discussing technology advances.
The next webinar, "Sensor Fusion: Potential, Challenges and Applications" is scheduled for December 6, at 2 p.m. (EST) and will will look at some of the critical challenges to achieving successful sensor fusion in autonomous and unmanned systems, and how sensor fusion architectures can be designed to overcome some of these challenges.
Dr. Jeff Fayman, VP Business and Product Development at Geodetics, Inc., and Sean McCormack, Director of FOG & OEM Business Development at KVH Industries, Inc., will also review several examples of how sensor fusion is used to solve a variety of aerial autonomous and mobile mapping application-specific problems.
Register now to join the webinar.
The first webinar, "Realizing New Potentials in Miniature Subsea Robotics," took place on Tuesday, Nov. 8 and is now available on demand for 12 months from IEEE Spectrum. The webinar features Ben Kinnaman, CEO and president of Greensea Systems, Inc., who reviews the sensor fusion-based navigation and control solutions developed by Greensea for various subsea robotics platforms. The Greensea navigation solutions utilize KVH's 1750 inertial measurement unit (IMU) to process large amounts of data derived from the numerous sensors used in the navigation system. Together with Sean McCormack, KVH's director of FOG and OEM sales, Mr. Kinnaman presents field results demonstrating advanced navigation and automation for miniature underwater robotics, and outlines a realistic vision for next-generation vehicle technologies.
The third webinar is planned for a January 2017 date on a topic related to ground-based unmanned and autonomous platforms successfully utilizing sensor fusion-based navigation and positioning solutions.