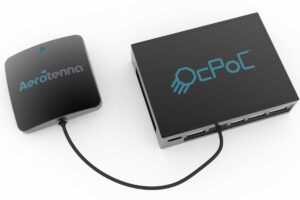 Aerotenna, a developer of microwave sensors and flight control systems for unmanned aerial vehicles (UAVs), has announced two new sensing and processing products – µSharp Patch, the company's smallest collision avoidance radar, and OcPoC mini, a SoC FPGA-based flight controller for any UAV platform.
The µSharp Patch microwave radar patch is a low power and easily integrated collision avoidance solution for drones of all sizes. It features a miniaturized radar antenna, circuitry and signal processor package as well as adaptive sensing range and centimeters resolution. The µSharp Patch collision avoidance solution is designed to fulfil sense and avoid requirements for fully autonomous drones.
A consensus amongst industry experts is that the ideal sensing solution consists of a combination of sensors. Therefore, a drone flight control system must be able to integrate multiple sensors and perform sensor fusion to enable quick and reliable collision avoidance. OcPoC mini, Aerotenna's SoC FPGA-based flight controller, was engineered with these requirements in mind. With over 100 I/Os for sensor integration and redundancy, an ARM processor and FPGA structure, OcPoC mini has the processing power and efficiency to enable sensor fusion and real-time onboard processing for safe flight and complex applications. OcPoC mini can be easily integrated with any airframe and open-source flight stack.