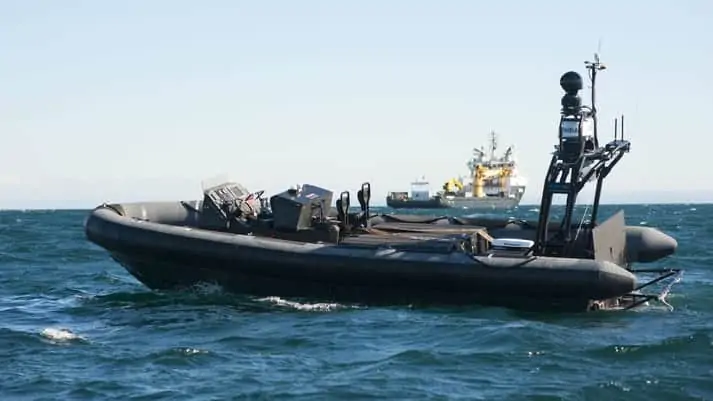 BAE has announced that it will be showcasing its unmanned boat technology and a bespoke transportable command and control system at Unmanned Warrior, a large scale demonstration of innovative maritime robotic systems hosted by the Royal Navy.
The Unmanned Warrior demonstration, taking place off the coasts of Scotland and West Wales, involves participants from industry, academia and Royal Navy operating more than 50 vehicles, sensors and systems on the surface, underwater and in the air.
BAE Systems' technology enables end-to-end command and control of unmanned vehicles and, together with its unmanned boat technology, can track, monitor and intercept threats as they happen. This supports decision making and helps to keep Royal Navy personnel safe during deployments.
Frank Cotton, BAE Systems Head of Technology for Combat Systems, said: "BAE Systems is at the forefront of the integration of unmanned systems with our proven mission-critical capabilities. This is vital in co-ordinating the Unmanned Warrior demonstration, which will inform the Royal Navy's future capability planning."
The ACER (Autonomous Control Exploitation and Realisation) system is at the heart of the Unmanned Warrior demonstration and has been developed by BAE Systems in collaboration with QinetiQ, Thales and Seebyte providing facilities to build and manage actionable tactical pictures and to plan, monitor, and execute unmanned vehicle missions.
ACER has been developed from the proven BAE Systems Combat Management System and includes enhancements to support planning and decision-making using off-board systems. Hosted within a transportable command and control centre, ACER is capable of integrating a number of unmanned systems and platforms from multiple suppliers, minimising the number of screens and controls operators need to conduct successful missions.
This provides a seamless flow of information from the sensors on the unmanned vehicles to the crew on the hosting warship. It enables Royal Navy personnel to pass commands down to the unmanned vehicles, ensuring humans retain the ultimate chain of command.
One of those platforms is BAE Systems' Pacific Class 950 Unmanned Rigid Inflatable Boat (P950 RIB). The RIB is capable of travelling at up to 47kts for up to 12 hours at a time, and can be controlled remotely and autonomously thanks to technology developed by BAE Systems and ASV Ltd with support from suppliers including Deep Vision Inc and Chess Dynamics Ltd.
During Unmanned Warrior, the RIB is being tasked from Northern River, the surrogate 'mothership' of these demonstrations. From here ACER provides the resident Principal Warfare Officer with unique ship-launched, high speed manoeuvrability and enhanced situational awareness to support decision-making.
This autonomous RIB technology is designed to be retro-fitted to existing boats, such as those already used extensively by the Royal Navy, as an affordable, modular upgrade that enables the craft to be operated manually or autonomously at the flick of a switch.
Behind all the technology is a team of operators, monitoring and assessing the real-time feeds that come back from the sensors and cameras on board the P950, enabling swift decision-making while ensuring all Royal Navy personnel are kept out of harm's way.