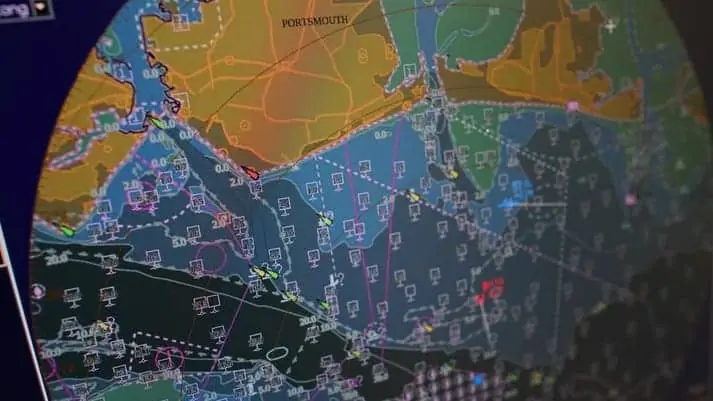 BAE Systems has successfully delivered a live demonstration of its latest unmanned naval technologies in a realistic scenario in the Solent and Portsmouth Harbour. Working in collaboration with a number of partner companies including QinetiQ, SeeByte, ASV, Cloudnet IT Solutions and Blue Bear, the project, named 'Unmanned Capability', demonstrated the planning, tasking, control and monitoring abilities of unmanned systems technologies and how they could support naval operations in the future.
BAE Systems' P950 Unmanned Rigid Inflatable Boat (RIB), developed in collaboration with ASV Ltd, took to the Solent whilst a 'threat boat' emerged from Langstone Harbour. The RIB was controlled at a command centre at BAE Systems' Maritime Integration and Support Centre (MISC), a building 9km away on the top of Portsdown Hill, and was able to send live pictures of the evolving situation back without any risk to any crew. Seeing this footage, the command team were then able to identify the threat and use the unmanned RIB to intercept the 'threat boat.'
At the heart of the demonstration was BAE Systems' Combat Management System, which acted as the information hub for each of the unmanned vehicles creating a picture to support the Command Team's decision-making. The system, which is in operation across the Royal Navy surface fleet, was advanced for unmanned operations through an intelligent software enabler developed in collaboration with QinetiQ and SeeByte, known as Maritime Autonomous Platform Exploitation (MAPLE). This transportable command and control centre is capable of integrating unmanned systems from multiple suppliers, thus minimising the number of screens and controls needed to conduct missions and making the whole system highly efficient with minimum risk of human error.
Also integral to the demonstration was MarTacNet technology, an intelligent maritime communications network that enables the type of high-speed communication essential for multiple vehicles from a range of suppliers to communicate in unmanned operations. This capability has been developed in collaboration with Cloudnet IT Solutions, which uses part of the Ultra High Frequency spectrum made redundant by the digital TV switchover to provide high bandwidth, long-range tactical communications.
Richard Williams, BAE Systems' Combat Systems Director, said: "This is an exciting time for our company. Through successful collaboration, we have effectively demonstrated this new technology taking an important step forward towards integrating novel unmanned systems into a warship's combat system."
The companies involved in Unmanned Capability will be taking part in the Royal Navy's 'Unmanned Warrior' project trials this October off the coasts of Scotland and Wales. BAE Systems' new technologies will be vital in co-ordinating this complex exercise which will inform the Royal Navy's planning for future capabilities.