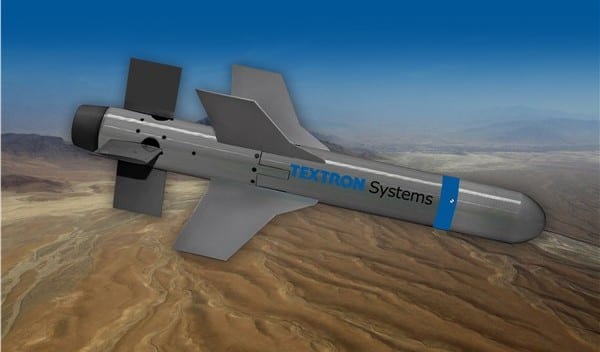 Textron Systems Weapon & Sensor Systems has announced that, in conjunction with Thales, it has successfully tested the Fury lightweight precision guided glide weapon from the Shadow Tactical Unmanned Aircraft System (TUAS) against static vehicle targets.
The Fury was tested from a Textron Systems Shadow TUAS at the U.S. Army's Yuma Proving Ground in Arizona. During the testing, the Fury was released from 8,000 feet altitude, conducted a Global Positioning System (GPS) guided fly-out maneuver and transitioned to the Semi-Active Laser (SAL) guided terminal engagement, directly striking a static vehicle target.
"We are pleased with the test results and development progress of the Fury weapon system – the latest test proved out the GPS and SAL guidance capability from 8,000 feet and was a significant incremental step in the weapon's development," says Weapon & Sensor Systems Senior Vice President & General Manager Brian Sinkiewicz. "To date, the tests have demonstrated that the lightweight weapon features a mature and proven warhead and accurate guidance system paired with a fully integrated aircraft solution. With these results, we believe the Fury system could be a great complement to the Shadow TUAS, other UAS or light attack aircraft."
"We are delighted with the recent success of Fury," says Thales General Manager Philip McBride. "Building on the technology used in the Lightweight Multirole Missile (LMM), this latest addition to the LMM family has proven the precision of the munition. Fury offers proportionate effects in time-critical, network-centric Close Air Support (CAS) and armed Information, Surveillance, Target Acquisition and Reconnaissance (ISTAR) missions against both fixed and moving targets."
Textron Systems and Thales began development of the Fury weapon system in 2014. The team utilizes their expertise in weapon systems and sub component and system-level integration in major United States and United Kingdom weapon system programs in development of the system. The team plans to co-market and produce the system for U.S. domestic and international markets.
The Fury weapon uses a common interface for rapid integration on multiple manned and unmanned aircraft systems. The weapon's tri-mode fuzing – impact, height of burst and delay – further enables a single Fury to address a broad target set, ranging from static and moving light armored vehicles to small boats and personnel. The precision weapon Fury is guided by a GPS-aided inertial navigation unit system with a Semi-Active Laser Seeker terminal guidance capability. This enables the weapon to engage both stationary and moving targets within 1 meter accuracy, or fly to specific target coordinates.