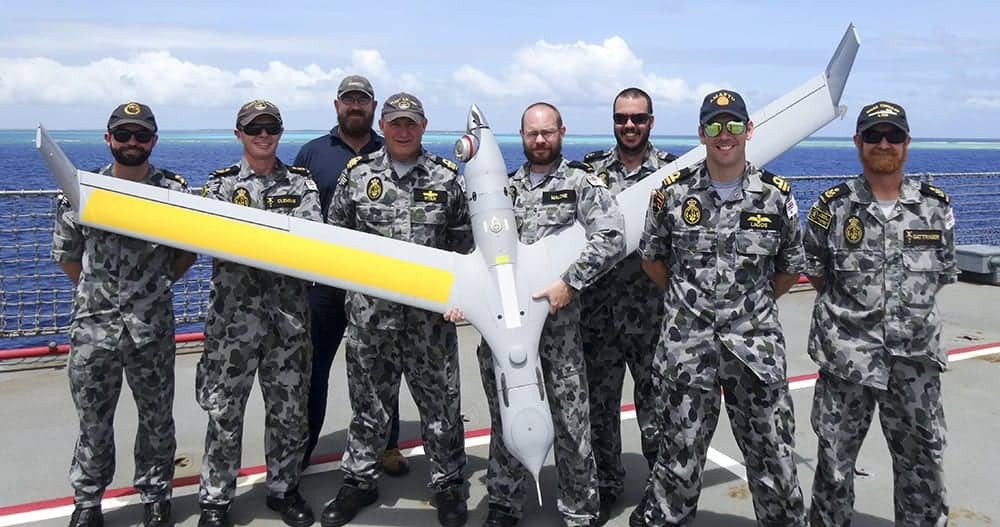 The Royal Australian Navy's Unmanned Aircraft System Unit has confirmed that their ScanEagle UAV completed the first of class flight trial in late March.
This significant milestone was carried out by the Aviation Maintenance and Flight Trials Unit, which conducted the trial onboard HMAS Choules, assessing all facets of unmanned aircraft systems operation in an embarked setting.
ScanEagle Detachment Commander, Lieutenant Commander Matt Hyam said the trial validated the systems operating limits and allowed personnel to gain their maritime qualifications.
"Over the two weeks on Choules, ScanEagle conducted 26.1 hours of embarked flight operations during the trial, spread amongst eight sorties," he said. "This allowed us to validate operating limits for Choules and gather information to inform to future acquisition projects."
The ScanEagle fixed-wing unmanned aircraft system sends video and telemetry to its control station in near real time to fulfil its primary roles of surveillance and reconnaissance. It can be configured with various sensors and propulsion modules and has an operating range of up to 200km and endurance in excess of 12 hours.
The unmanned aircraft system consists of a mission control station, catapult launcher, recovery system and multiple unmanned aircraft. The standard Navy crew model is an air vehicle operator, mission commander and ground crew. In what marks a significant change in the Fleet Air Arm, the unmanned aircraft is 'flown' by non-commissioned crew, with airspace and mission control provided by aircrew officers.
"Small tactical unmanned aircraft systems will have a key role in the future fleet and provide products to end users such as Principal Warfare Officers that will enhance the maritime operating picture without risking high value assets and personnel in manned aircraft," Lieutenant Commander Hyam said.
"The trial is the culmination of two years of experimentation and is a significant step forward for Navy."
Source: Ms Natalie Staples (author), LEUT Marcelo Lagos (photographer).