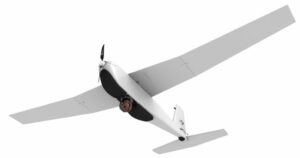 AeroVironment, Inc., a manufacturer of small Unmanned Aircraft Systems (sUAS), has announced that it and a team from the National Oceanic and Atmospheric Administration (NOAA) have been contracted to provide the U.S. Coast Guard ice breaker Polar Star with a RQ-20A Puma AE unmanned aircraft system and a flight crew for the annual joint "Operation Deep Freeze," the military component of the larger, civilian-managed U.S. Antarctic Program to re-supply the National Science Foundation's McMurdo Station. The Operation Deep Freeze joint team departed from Hobart, Tasmania, Australia, and has already reached McMurdo Station.
"Operation Deep Freeze is one of the U.S. military's most complex peacetime missions due to the harsh Antarctic environment," said Kirk Flittie, AeroVironment vice president and general manager of its Unmanned Aircraft Systems business segment.
"AeroVironment's Puma AE is delivering vital advanced scouting intelligence to help the Coast Guard's Polar Star conduct ice-breaking operations in the treacherous waters of the Ross Sea more safely and efficiently without putting pilots and costly helicopters at risk." Flittie added that updates, video and photography during the mission will be posted on AeroVironment's Facebook page as connectivity permits.
Puma is lightweight, easy to pack and deploy, and can operate off any ship without modifying the vessel. During Operation Deep Freeze, AeroVironment personnel are employing its new Autonomous Recovery System to capture Puma in a portable net on its return to the ship. Puma also can be recovered from the sea as a result of its waterproof design.
The Puma AE weighs 13.5 pounds, operates for more than 210 minutes, typically at a range of up to 15 kilometers, and delivers live, streaming color and infrared video as well as laser illumination from its pan-tilt-zoom Mantis i25 AE gimbaled payload. Launched by hand and capable of landing on the ground or in fresh or salt water, the Puma AE provides portability and flexibility for infantry, commercial, littoral or maritime operations.
AeroVironment's small UAS, including Raven, Wasp, Puma and Shrike VTOL, are proven with more than one million operating hours and used extensively for real-world operations in some of the harshest environments around the globe. They provide high-quality ISR, geospatial and multispectral information and 3-D engineering data for a multitude of missions in many fields, including precision agriculture, energy, transportation and utility.
"AeroVironment's proven small UAS deliver critical information that allows people to make better decisions, even in the harshest conditions – enabling them to move forward with confidence," Flittie said. "Moreover, Puma AE offers significant cost-saving advantages compared to available alternatives."
Operation Deep Freeze is a U.S. military operation in support of the United States Antarctic Program, which is managed by the National Science Foundation. AeroVironment received the contract from ADS, Inc. on behalf of the Coast Guard and is collaborating with NOAA to provide the requested services.