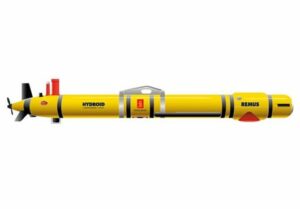 Hydroid, Inc., a manufacturer of marine robotic systems, has announced the release of Line Capture Line Recovery (LCLR), a self-contained module that is initially offered on Hydroid's REMUS 600 autonomous underwater vehicle for the purpose of autonomous launch and recovery.
"We designed the LCLR to be a first-of-its-kind system that will make the launch and recovery process completely autonomous," said Duane Fotheringham, president of Hydroid. "This will enable easier vehicle recovery and increase operational flexibility. As industry leaders, it is our goal to continue to progress autonomous technologies, which is illustrated with the development of this innovative product."
A vertical line is deployed in the water with a transponder attached to the end of the line. When the vehicle is commanded to dock, the LCLR software autonomously homes the vehicle to approach the transponder. The vehicle navigates autonomously toward the transponder and attaches itself to the line above the transponder. The line and the attached vehicle are then recovered on a vessel such as an Unmanned Surface Vehicle (USV) or any other platform. The vessel may be stationary or moving during the capture process.
The LCLR module uses a linear Digital Ultra Short Base Line (DUSBL) Acoustic Array for homing the vehicle to the transponder. The final capture is assisted by articulated arms for capturing the line after the vehicle reaches it. Upon capture, a latch mechanism attaches the vehicle to the line. An optical sensor is used to confirm the completion of the vehicle's capture and initiate its recovery.
During the approach of the vehicle to the transponder, the system Graphical User Interface (GUI) can send updates on the transponder position via acoustic messages to the vehicle. The GUI may be configured to transmit the position update to the vehicle automatically or manually by the operator. The LCLR system also works for moving captures, using GPS to determine the vessel's position.