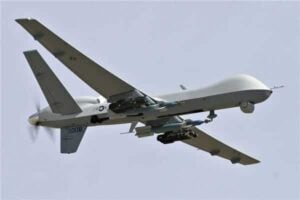 General Atomics Aeronautical Systems, Inc. (GA‑ASI), a manufacturer of Remotely Piloted Aircraft (RPA) systems, has announced the successful flight of a company-owned Predator B integrated with a certified Rohde & Schwarz R&S MR6000A air traffic control radio. The flight lasted 48 minutes, launching from the company's Gray Butte Flight Operations Facility in Palmdale, California.
"Integrating Rohde & Schwarz's R&S MR6000A aboard Predator B is a big step forward in meeting the airworthiness type-certification requirements of our current and future European customers," said Linden P. Blue, CEO, GA-ASI. "We are excited to leverage R&S MR6000A's capabilities to enhance Predator B's safe flight in domestic and international airspace further."
The R&S MR6000A is a key component in supporting GA-ASI's effort to deliver its Certifiable Predator B (CPB) RPA to European customers and to add additional German and European payload capability into its Predator-series aircraft. The R&S MR6000A radio was certified on the Airbus A400M as RTCA/DO‑178B (level C) and RTCA/DO‑254 (DAL C) by the European Aviation Safety Agency (EASA). It is already in service on the A400M, making it a proven asset. The radio supports both VHF and UHF air-to-air and air-to-ground communications.
During the company-funded test, the Predator B demonstrated its ability to integrate the R&S MR6000A airborne radio, delivering VHF radio communication to and from dismounted ground users equipped with a standard VHF aviation radio.
GA-ASI next plans to integrate the R&S MR6000A into CPB's design. Furthermore, it will include both hardware and software upgrades and a state-of-the-art Detect and Avoid (DAA) system featuring an airborne Due Regard Radar (DRR) for operation in non-cooperative airspace. Additionally, the aircraft will be designed to survive bird and lightning strikes and will be equipped with a de-icing system. CPB initially will target NATO type-certification standards with completion of the first-article production aircraft in late 2017.