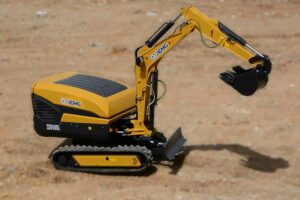 XCMG, a construction equipment company, has developed the company's first fully remote-controlled excavator – the XE15R. Without a cab, the XE15R is also the company's smallest excavator at 1.35m in height and 1.08m in width.
The newly developed XE15R features a wireless control function with a 100-meter range, and integrates mechanic, electronic and hydraulic control technology with a CAN bus interface design. Unmanned driving reduces labor intensity, particularly useful in severe operating environments, such as toxic conditions or extreme temperatures.
As an intelligent excavator, XE15R also features a self-learning function. It can save operating maneuvers and then replay them automatically on request, a breakthrough that further ensures security, agility and reliability in operation.
"Intelligentization is an inevitable choice as XCMG follows the path of new industrialization, and XE15R shows that we do what we say. Its design embodies our pursuit of efficiency and user friendliness." said Wang Min, president of XCMG.
Based on its global collaborative development platform, XCMG has devoted significant effort towards the research and development of core hydraulic parts and intelligent technology, and has successfully applied the results to its excavators and other product series.