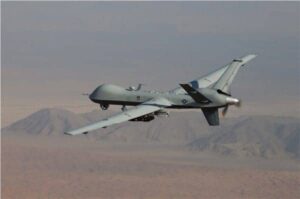 General Atomics Aeronautical Systems, Inc., a manufacturer of Remotely Piloted Aircraft (RPA) systems, has announced that its Predator B/MQ-9 Reaper Extended Range (Reaper ER) RPA fleet has undergone its first operational fielding by the U.S. Air Force (USAF).
"Reaper ER provides a tremendous capability increase in both range and endurance, and achieving this major program milestone wouldn't have been possible without the dedication and commitment of our employees," said Frank W. Pace, president, Aircraft Systems, GA-ASI. "We are pleased that the Reaper ER program has met the expectations of our Air Force customer and satisfied the enormous challenge of their Quick Reaction Capability [QRC] schedule requirement."
A Reaper can be transformed into a Reaper ER through the integration of a field-retrofittable modification package consisting of two wing-mounted fuel tanks which significantly extend the aircraft's maximum endurance. Reaper's original external payload carriage configuration remains unchanged, providing the aircraft with a "mix and match" capability that allows it to carry both fuel tanks and an assortment of external payloads. To increase thrust and improve takeoff performance at higher gross weights, an alcohol/water injection system and a four-bladed propeller were incorporated, along with a heavyweight trailing arm landing gear system that enables safe ground operations at the heavier gross weight.
The Reaper ER program was a QRC requirement in support of USAF which challenged GA-ASI to deliver 38 Reaper ER aircraft in 13 months, and to be operational 18 months following contract award. The ER modification package was designed to be field-retrofittable so that fuel tanks and associated equipment could be installed quickly and conveniently on current Reapers at worldwide locations.
In related news, GA-ASI has also announced that Reaper ER has earned the company an honor from Aviation Week, with the company being named as a finalist for the 2015 Program Excellence Awards in the category of System. Reaper ER was selected for GA-ASI's efforts to introduce unique and innovative changes to standard production programs in the execution of the aircraft's production, including an innovative approach to leading and managing a QRC that implemented a disciplined production environment to meet a very challenging schedule. The company also was recognized for partnering with the U.S. Government to streamline the production line and adjust tools and processes to improve the execution of the program.
"This year's Program Excellence submissions provided a wealth of lessons learned and best practices, from driving down cycle time and affecting the learning curve to process innovations that allow program teams to work smarter and achieve better results," said Carole Hedden, Program Excellence editorial director for Aviation Week. "Our evaluation team of program experts narrowed the field from 72 original nominations to a field of 23 finalists who exemplified the best in creating value, adapting to complexity, team effectiveness, and producing results."