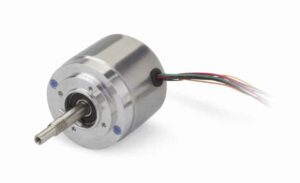 BEI Kimco, a manufacturer of high-performance rotary and linear motion components, has announced that it has developed several new brushless DC motors that meet ROV Inspection Class requirements and provide high efficiency and low acoustical noise design configurations.
Inspection Class ROVs are the smallest, most portable class of ROVs and are easy to deploy. They operate on less than 10 horsepower, and use compact thruster motors that attach directly to the propeller for positioning and navigation.
Current and emerging Inspection Class ROV applications include: search and rescue, maritime security, military, hydro industry, offshore oil rig inspection, and science and research. These applications require a low profile design with the capabilities of operating reliably in water and occasionally oil.
"BEI Kimco has developed motors within the 10 horsepower range that the ROV Inspection Class needs," explains Walter Smith, Applications Engineer/Project Manager for BEI Kimco. "We have been collaborating with leading OEMs on designs that offer significant improvements on the motor functionality offered by other motor manufacturers."
BEI Kimco is also able to provide higher motor efficiencies – ranging from a 10% to 30% improvement over previous designs. Higher efficiency motors translate into capabilities for supporting continuous duty cycles and extending battery life for remote applications. BEI Kimco's high efficiency motor performance has been achieved by using proprietary low magnetic circuit design techniques, leading edge manufacturing process technologies and expertise in material selection.
"We recently produced an array of solutions from one base motor model for a large thruster manufacturer in the ROV market," adds Smith. "With these recent successes, we fully expect to make major in-roads in this fast-growing area."