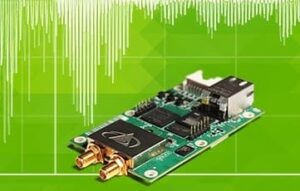 Time Domain, a developer of ultra wideband (UWB) products, has announced the release of the PulsON® 440 (P440) UWB module, the latest generation of its high-performance P400 series of UWB ranging, radar, and communications modules. The P440 module features a new proprietary UWB silicon chip and offers product integrators significant benefits, including reduced size, better power consumption, and expanded interface capability.
"The release of the P440 comes at a critical time for our user community," said Rachel Reinhardt, President and CEO of Time Domain. "Our industrial customers have already proven that PulsON UWB technology reliably provides exceptional performance in the most challenging environments. This new radio will enable them to deploy on a massive scale."
The centerpiece of the P440 module is the new Fully Integrated Front End (FIFE) custom UWB chip, which combines the company's two previous custom SiGe chips (Pulser and Analog Front End) into a single chip that is smaller and more power efficient than either of its predecessors. The resulting FIFE-based P440 module is the approximate size of a credit card (56 mm x 89 mm), offers multiple interface options (USB, Ethernet, serial, SPI, and CAN), and consumes less than half the power of the prior generation P410 and P412 platforms.
The new modules will use Time Domain's existing suite of ranging/localization and radar/sensing software. In ranging mode, the P440 provides peer-to-peer distance measurements at better than 2 centimeters accuracy over a range of several hundred meters, with high update rates and in high multipath environments. Network and location layer software and sample code are provided to help users quickly implement their own custom navigation and tracking applications. In radar mode, the P440 can function as a monostatic or multistatic short-range radar sensor, capable of providing the distance measurement and reflection amplitude of a variety of targets within its scan range, and suitable for indoor or outdoor (all-weather) use.
The needs of Time Domain's industrial customer base factored heavily in the design of the new platform. The P440 was designed to operate over the full industrial temperature range (-40°C to +85°C) and withstand the rigors of high shock and high vibration environments. It has immediate application for:
Indoor and GPS-denied navigation and mapping (e.g., autonomous vehicles and robots)
Augmentation of GPS and inertial tracking systems in high multipath environments
Precision distance measurement for machine controls and guidance
Proximity and intrusion detection
Non-cooperative (tagless) tracking
Collision avoidance for unmanned vehicles and robots
The P440 will be available in 2 versions to meet both the U.S. Federal Communications Commission (FCC) and the EU European Telecommunications Standards Institute (ETSI) regulations for UWB transmission.