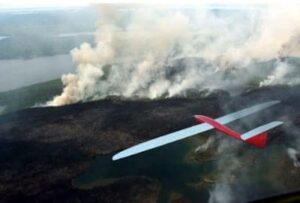 UASUSA, a manufacturer of small electric unmanned aerial vehicles (UAVs) and developer of complete UAV-based solutions, has announced that its Tempest drone has been chosen by NASA to monitor subterranean wildfires and track swamp algae blooms in the Great Dismal Swamp Ecosystem, Suffolk, Virginia.
The Great Dismal Swamp Ecosystem is made up of 112,000 acres, and is a critical bio-diversity area filled with forests and a multitude of plant and animal species. The area has been highly vulnerable to lightning-induced wildfires, presenting ongoing challenges and dangers to this ecologically significant wetland. NASA has chosen the Tempest drone to monitor and track data in order to help come up with solutions to protect the area.
The Tempest is a fixed-wing electric UAV with a sailplane flight profile and an airframe constructed from a lightweight composite material. The aircraft will carry an advanced sensor payload to monitor the area and record the data required by NASA. In addition to using the gathered data to recognize problems, track patterns and plan solutions, NASA will also be able to assess the benefit these drones may have to future scientific and ecological missions.