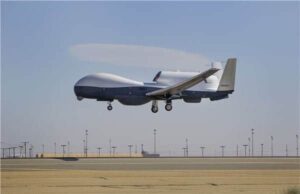 The Royal Australian Air Force (RAAF) has announced that it has entered into a Memorandum of Agreement (MoA) with Airservices Australia, an Australian Government-owned air navigation service provider, for the operation of the Heron remotely piloted Unmanned Aircraft System (UAS) in Australian civil airspace.
Commander of Surveillance and Response Group Air Commodore Chris Westwood and Airservices Australia's Executive General Manager Air Traffic Control Greg Hood signed the MoA at a ceremony in Canberra.
Air Commodore Chris Westwood said the MoA formalises the partnership between Airservices Australia and Air Force and enhances Australia's position on UAS.
"The purpose of the MoA is to set out procedures for Airservices Australia and Air Force to work within, and allows the Heron to be safely flown in civil airspace without any significant impact on civil air traffic," Air Commodore Westwood said.
"The MoA aids both Airservices and Air Force by facilitating the initial operation and integration of remotely piloted aircraft into civil airspace, based on Air Force's mature and thorough airworthiness and aviation safety system."
The Civil Aviation Safety Authority, the regulator of all Australian airspace, will also work with Airservices and Air Force to monitor the arrangements from a civil aviation safety perspective.
Airservices Australia Executive General Manager Greg Hood said that the agreement further reinforces the close working relationship between Airservices and the Royal Australian Air Force and ensures that UAS are operated safely in civilian airspace.
"This MoA is recognition of the changing way that airspace is being used to embrace new technologies," Mr Hood said.
The Heron is planned to fly in civilian airspace from Rockhampton Airport in late June, as part of Exercise Talisman Sabre 2015. This will be the first time the aircraft has flown outside of restricted military airspace in Australia.
Air Force currently operates two Heron aircraft from RAAF Base Woomera in South Australia, as part of a plan to ensure that Australia remains at the forefront of advancing aviation technology and that Air Force pilots maintain the skills to operate UAS until the introduction of the MQ-4C Triton.