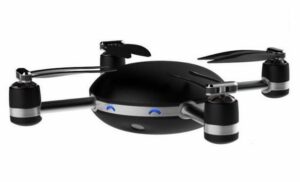 Lily, a manufacturer of self-flying cameras, has announced the release of its flagship product – the Lily Camera, which the company claims to be the world's first throw-and-shoot camera that flies itself. Initiated with a simple throw in the air, the Lily Camera automatically follows its owner, capturing footage and high definition images while hovering in place or flying at speeds up to 25 mph. The camera, engineered for tough aerial and water environments, is built for outdoor action sports enthusiasts and users who want a simple way to record and share their everyday activities. Leveraging advanced computer vision algorithms and GPS, the Lily Camera intelligently tracks its owner, following every move. With autonomous flight, Lily expands creative shooting opportunities well beyond handheld and action cameras with a single point-of-view.
"Point-and-shoot devices, action cameras, camcorders, and DSLRs have served us well on the ground and attached to drones, but we've always wanted a richer, more contextual point-of-view," said Antoine Balaresque, CEO and co-founder of Lily. "Lily automatically creates exciting close range photos and wide, cinematic shots previously reserved for professional filmmakers."
Features:
Throw into air to start shooting
Flies itself, no controller required
Waterproof
Fits in backpack with weight of 2.8 lbs
Photos: 12 MP, Video: 1080p/60fps & 720p/120fps
Sony IMX117 1/2.3'' image sensor
Programmable flight paths via mobile app
20 minutes flight time
Optimal flying: Outdoors 10-30 ft, up to 25 mph
Audio recording from tracking device
Complies with FAA guidelines
The Lily Camera's core technology is driven by proprietary computer vision algorithms. Lily constantly communicates with the owner's tracking device which relays position, distance, and speed back to the built-in camera. Lily recognizes the owner and improves tracking accuracy over time. This technology enables Lily to fly completely autonomously, always keeping its owner in the shot and delivering smooth footage. Lily is also programmable and can receive directions via the tracking device or the mobile app. The camera is able to follow, loop, zoom, fly out, hover, and more.
Fully waterproof with a compact design, the Lily Camera is hardy enough to withstand challenging winds and water. The home base for the camera is the owner's hand – via the tracking device, the owner can summon Lily to make a landing on the palm. The tracking device also enables audio recording that is automatically synchronized with the camera's footage.