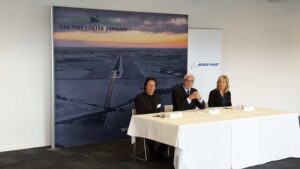 Boeing has announced that it will conduct Denmark's first ever beyond visual line-of-sight unmanned aircraft system (UAS) flights under civilian authority, another aspect of a partnership with Hans Christian Andersen Airport designed to help Denmark become an unmanned aerial systems leader.
Boeing subsidiary Insitu Inc., in cooperation with the Danish Transport Authority, will perform the flights at HCA Airport with its ScanEagle® UAS during Nordic UAS Event 2015. Robust command and control systems allow ScanEagle to safely operate autonomously far away from the people managing a mission.
The flights are part of a broader collaboration agreement Boeing and HCA Airport signed to further develop UAS Test Center Denmark, a testing, training, and development hub.
"Boeing's initial unmanned flight experiments at HCA Airport in 2011 inspired the concept behind UAS Test Center Denmark," said Christian Berg, CEO, HCA Airport. "We have the airspace and infrastructure to be a leader in testing and training throughout the international UAS community, and our work with Boeing is critical to showcasing what the future may hold for Denmark in unmanned systems."
Boeing will work with the public and private sectors to conduct the demonstrations, including members of the UAS Denmark consortium. Boeing was the first major international aerospace and defense company to join the consortium of companies, government organizations and others supporting unmanned technology development.
"The demonstrations are a breakthrough for positioning the test center and our Danish industry partners at the forefront of the European commercial UAS market," said Debbie Rub, Boeing vice president and general manager, Global Strike. "We will continue to build on our more than four years of collaboration with HCA Airport to bring opportunities in the fast-growing unmanned systems market to Danish industry."
ScanEagle is a long-endurance unmanned vehicle used by the U.S. Navy and customers around the world for intelligence, surveillance and reconnaissance missions. The demonstrations will feature a range of missions to showcase its capabilities, including agriculture and aerial surveying; emergency and natural disaster response; and defense and arctic surveillance.
Boeing has proposed working with UAS Test Center Denmark and multiple Danish companies on a range of unmanned technology projects as part of the comprehensive industrial engagement program associated with its offering of the F/A-18 Super Hornet in Denmark's New Fighter Program.
Collaboration in unmanned aircraft technologies is one of several areas Boeing is pursuing with Danish companies in support of long-term Danish industry growth. A recent study commissioned by Boeing and released by DAMVAD, a Danish economic consultancy, found that collaboration among Denmark's defense industry and Boeing could create more than 10,000 jobs in Denmark and add 6 billion DKK to the country's GDP over 20 years.