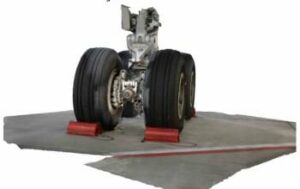 Aibotix, a manufacturer of multirotor unmanned aircraft systems, has announced that its Aibot X6 UAV was used to generate a point cloud of the zero gravity Airbus A300 ZERO-G, which in turn was used to generate a 3D model of the landing gear that is accurate to more than +/- 5 mm.
The Airbus aircraft, used by the French company Novespace in research missions for the German Aerospace Center (DLR), is due to be retired. The aircraft, which has been used for 15 years by DLR for scientific research into microgravity, is to be put on display at Cologne / Bonn Airport and thus a supporting construction was required for the aircraft to stand on permanently without its tyres touching the floor.
The landing gear only has five position points, known as pins, which the aircraft can rest upon. The surveyors, Uli Bauer and Andreas Gelhausen, were tasked with determining the position of the pins geometrically. Since Bauer and Gelhausen wanted to use photogrammetry to generate the data, they first scanned the landing gear with a Leica Scan Station C 10 to use as a reference. Following this, Gelhausen photographed the landing gear from all angles with a Nikon Coolpix A to create a 3D model from the pictures. At the relevant points, the model has an accuracy of more than +/- 5 mm. Working with photogrammetry for the very first time on this type of task, the surveyor was very impressed by its accuracy, "The final image analysis is very detailed and accurate, the results are amazing. The comparison with the laser scanned data has shown that we can use the Hexacopter Aibot X6 system readily for such tasks in the future."
In order to capture the aircraft in its entirety, so as to quickly determine the dimensions for future transportation and final positioning, the surveyors covered the Airbus with the Aibot X6 UAV. They used a digital camera to generate data, which was further processed to produce a point cloud. "Using the Hexacopter means that we are much faster than with conventional methods, but the accuracy remains the same," Gelhausen explained.