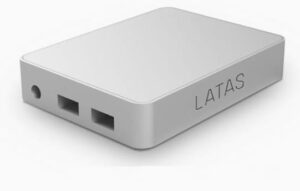 PrecisionHawk Inc., a manufacturer of Unmanned Aerial Vehicles and provider of Aerial Data Processing and Analysis products, has announced a solution, known as LATAS (Low Altitude Tracking and Avoidance System,) for the safe integration of drones into the National Airspace. As an automated air traffic control system for UAVs, LATAS has the ability to provide flight planning, tracking and avoidance for every drone in the sky using real-time flight data transmission based on world-wide cellular networks. Developed to be plug and play or integrated into a UAV's circuit during manufacturing, LATAS is small (3x2x1in), light (>100G) and operational on network speeds as low as 2G.
"The development of LATAS is based around the idea that we can use existing technologies at a low cost and weight, and avoid the creation of an entire new system," said Tyler Collins, Director of Business Development at PrecisionHawk and LATAS creator. "We need more advanced computer systems to deal with the technology side and reversely, we need the technology side to work within traditional safety methods to provide the FAA with a safety-first solution."
The FAA has maintained its stance that safe UAV integration cannot take place without a UAV reporting system in place. Large agencies have answered the call to create a solution that will help the FAA get ahead of the developing market and many have successfully completed test flights. However, the currently proposed solutions include local radar stations that will need to be placed all over the US, not taking into account potential infrastructure costs. LATAS will allow users to request, track and verify all flight operations from a centralized location and automatically report flight paths back to the FAA.
"Cheaper, smaller and more commonly used UAVs, those are the ones flying in the approach paths," said Collins. "In the technology world we reward innovation and speed, but in the FAA's world they reward safety. LATAS is a viable solution to reward both sides; giving pilots a way to know where UAVs are before they become a safety concern."
Collins, a graduate of Indiana State University with a degree in Aviation Technology and Unmanned Systems, began with PrecisionHawk as a part-time flight technician in 2013. Upon graduation, he was quickly promoted to Director of Business Development where he became directly involved with identifying some of the key issues surrounding UAS integration. Collins created and tested the first LATAS prototype in the summer of 2014 using a 3D printer in his apartment and a hobbyist quadcopter at an RC field in Raleigh, North Carolina.
LATAS is currently a working prototype using the code standards that are required for air traffic control. The solution is patent pending.