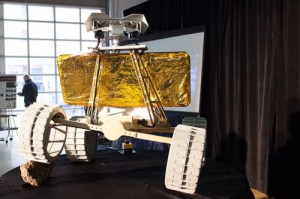 The Google Lunar XPRIZE has announced that Andy, a four-wheeled lunar rover designed and built by Carnegie Mellon University, is the winner of a Milestone Prize for mobility after judges concluded it is thus far the only robot among the competing teams to meet development benchmarks for flight readiness.
Other teams continue to contend for Milestone Prizes, which will be awarded Jan. 26, 2015, in San Francisco, but the CMU team is the first and only team to meet the Milestone mobility objectives thus far, XPRIZE said. Likewise, CMU's partner, Pittsburgh's Astrobotic Technology, is the first winner of a Milestone Prize in the imaging subsystem category.
"Andy has proven to be a tough, smart, sure-footed machine," said William "Red" Whittaker, professor of robotics, who led a team of about 50 students, faculty and staff members from across the CMU campus to create the rover. "We've shaken it to simulate launch forces, driven it through moon dirt and exposed it to the extremes of lunar temperatures among many, many tests. Our team and our machine faced a rigorous evaluation by world-class judges and came out on top."
The Mobility Milestone Prize includes a $500,000 cash award. "We don't do anything just for a prize," Whittaker added, "but when a check like this comes our way, we cash it." The prize money will be used to continue Andy's development.
The robot can scramble around giant moon pits, explore lunar caves or seek polar ice. Carnegie Mellon is building the rover as it works in partnership with Astrobotic Technology to win the $20 million-plus Google Lunar XPRIZE by landing and operating a robot on the moon. Astrobotic, a CMU spinoff, is developing commercial hardware and services to support space exploration. In addition to the imaging technology for which it won a Milestone Prize, Astrobotic also is developing the Griffin landing craft that will deliver Andy to the moon.
The Milestone Prizes created by Google and the XPRIZE Foundation included three categories: landing system, mobility subsystems and imaging subsystems. Astrobotic is continuing to pursue the Milestone Prize for landing systems. Other teams still in the running for Milestone Prizes include Hakuto (Japan), Team Indus (India), Moon Express (U.S.) and Part-Time Scientists (Germany).
XPRIZE officials also announced that they have extended the deadline for the competition until Dec. 31, 2016. At least one team must provide documentation of a scheduled launch by Dec. 31, 2015, for all of the teams to move forward in the competition, the officials said.
"The award of these Milestone Prizes is evidence that the partnership between Astrobotic and Carnegie Mellon is powerful and that our technologies are setting the pace for the Google Lunar XPRIZE teams," said John Thornton, Astrobotic's CEO. "We feel confident that we can land on the moon in 2016 and show that a private company can set the course for future lunar exploration."
To receive the mobility prize, the CMU team had to demonstrate that Andy could survive the vacuum, high radiation and extreme cold of the moon. The team also had to show that the robot could complete – and could prove that it completed – a 500-meter traverse on the lunar surface, one of the conditions for winning the Google Lunar XPRIZE.
Andy's prize-winning features include:
• A wide stance, low center-of-gravity and high belly clearance combine for unprecedented stability, slope climbing and straddling of rocks.
• A soft footprint – weighing less than 10 pounds on the moon – and wide wheels give Andy superior mobility, while a novel suspension provides strong pulling power.
• A new method for combining landing imagery with 3-D path reconstruction data to plan and document Andy's exploration route.
• Innovative software that, combined with redundant electronic components, achieves high reliability of electronic systems despite the moon's high radiation levels.
Andy, which derives its moniker from university namesakes Andrew Carnegie and Andrew Mellon, was developed with technical expertise and resources contributed from across the university, including the School of Computer Science, the College of Engineering, the College of Fine Arts and the Mellon College of Science.
Whittaker said many team members contributed long hours to the creation of Andy. Notable among them were Jon Anderson and Curtis Boirum, both master's degree students in robotics; Joe Bartels, Nate Otten and Heather Jones, Ph.D. students in robotics; Luke Metro, a sophomore electrical and computer engineering major; John Mann, a junior computer science major; and Jay Jasper, a master's degree student in mechanical engineering.
"We continue to see significant progress from our Google Lunar XPRIZE teams, most recently demonstrated in the pursuit of the Milestone Prizes, in which teams exhibited substantial technological achievements that will ultimately support their missions," said Robert K. Weiss, vice chairman and president, XPRIZE.