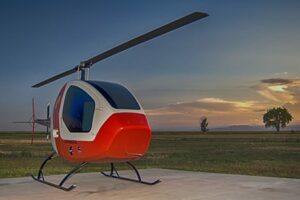 Scion UAS has completed a series of capability demonstrations of the SA-400 Jackal, an optionally piloted helicopter system. The demonstration successfully concluded the flight test program for the SA-400.
The flight demonstration was performed in restricted airspace so that the 1,200-pound helicopter could fly without a safety pilot aboard. The flights included automated landing and takeoff from a moving platform. Other capabilities shown included forward flights at speeds up to 70 mph, sideways flights at speeds up to 35 mph, and distance flights which sent the aircraft on a 20 mile round trip with a maximum straight line distance more than 5 miles away from the ground control station.
The SA-400 is designed to carry a 100-pound payload, and all of the demonstration flights were performed with a payload of 100-pounds installed on the side payload mounts. The payload capacity of the SA-400 makes it a viable platform for precision agriculture and wildfire monitoring applications.
"The tests went exactly as planned", said Dr. Phillip Jones, one of the 5 founders of the company and in charge of software development and autopilot integration on the SA-400 platform. "We've demonstrated all of these capabilities before with our safety pilot onboard, so we were very confident in the system."
Personnel from the Office of Naval Research (ONR) and from the Naval Research Laboratory (NRL) were present to watch the flights. After the demonstration, NRL took delivery of the first SA-400 Jackal system at their facility in Washington DC. The second system will be delivered before the end of the year.
Betsy Sampson, CFO and co-founder commented, "There have been frustrations along the way, but to see what we have accomplished as a small independently owned business makes it worthwhile. It's been very exciting and satisfying to complete this delivery."
Founded in 2011, Scion UAS, LLC offers a product family of unmanned helicopter systems that range in size from car-transportable to optionally piloted. The VTOL UAS provides a simple-to-use aerial platform that is suitable for a wide variety of civilian and military applications including search and rescue, agriculture, aerial mapping, and aerial surveys.