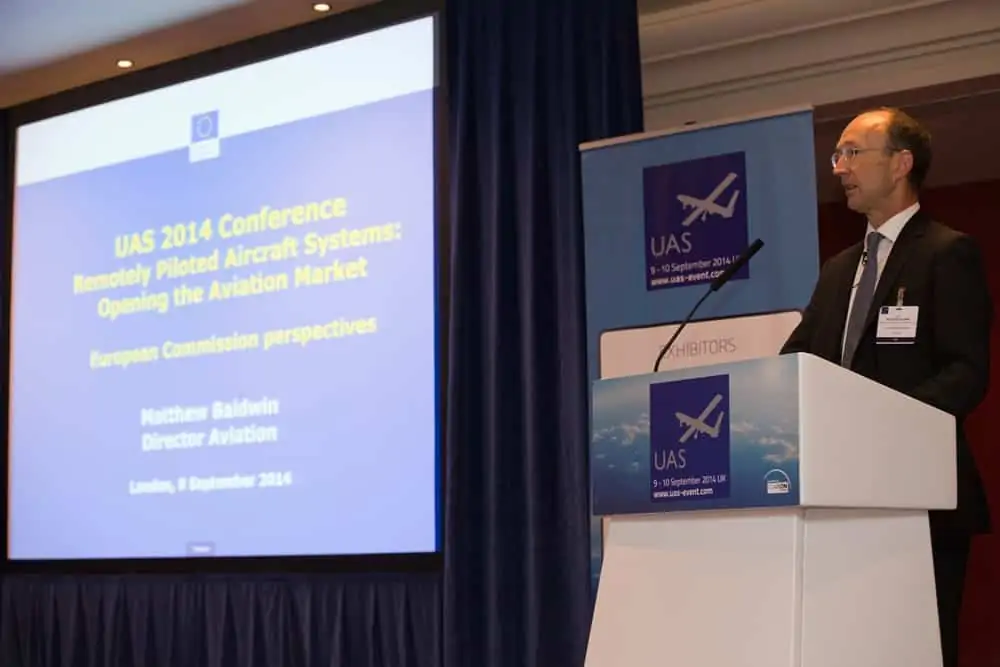 UAS 2014, the leading European conference covering remotely piloted aerial systems attracted around 350 delegates at its highly successful event at Twickenham; highlighting the diverse use of unmanned aerial vehicles over a wide variety of applications.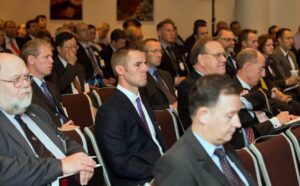 In a move that broke from tradition, the event organisers, Clarion Events, separated the conference which had previously been held in conjunction with London based international defence exhibition, DSEI. The DSEI and UAS Event Director, Duncan Reid, explained: "The increasing and differing applications for remotely piloted platforms have generated greater interest from all sectors of the industry. We could not ignore the important emergency, humanitarian and agricultural applications as well as film production and the creative industries."
The move to a standalone event justified itself. "Educational, informative and destroying misconceptions" were just some of the comments received from visitors and exhibitors alike.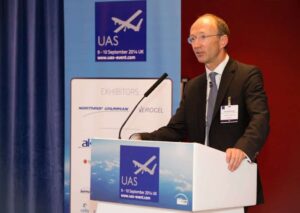 Conference Chairman, Air Marshall Philip Sturley, holds a vast aviation experience and knowledge of air safety and regulations. He said: "This is the first conference I have seen that seeks to bridge the gap between military and civil developments while ensuring that lessons learnt from the tried and tested military applications can be applied to the civil sector."
The issue of safety and regulation was a continuing theme throughout the event. He continued: "Effective civil and commercial employment of UAS depends on resolution of the safety and regulatory issues and much good work is being done in this area."
Speakers comprehensively represented all aspects of the industry and end users in different environments. The programme covered environmental aspects, software and technology and the transition from military applications to other sectors. Humanitarian aspects included talks from West Midlands Fire Service, pioneers in the use of unmanned platforms and are working towards advanced detection, identification and monitoring of UAS response capability in the future. Sussex Police explained how they had developed the use of UAS in support of many policing objectives ranging from airport security to missing persons. They currently have four operators trialling the use of the Aeryon Skyranger.
UAS capability is being used increasingly in agriculture and Sergio Mareno Rojas explained how G Growers, in association with KTP, is developing remote sensing technology using UAS-based multi-spectral imagery, evaluating different systems on salad and crop farms.
UAS is not new to broadcasting, an industry which has used aerial platforms of different types for some time. A panel of creative's, broadcasters, cameramen and producers discussed the benefits and the problems of using UAS. Creative Director of Dependable Productions, Richard Critchlow saw the possibility of using UAS for large scale outside broadcasts after seeing the possibilities and limitation of helicopters in broadcast.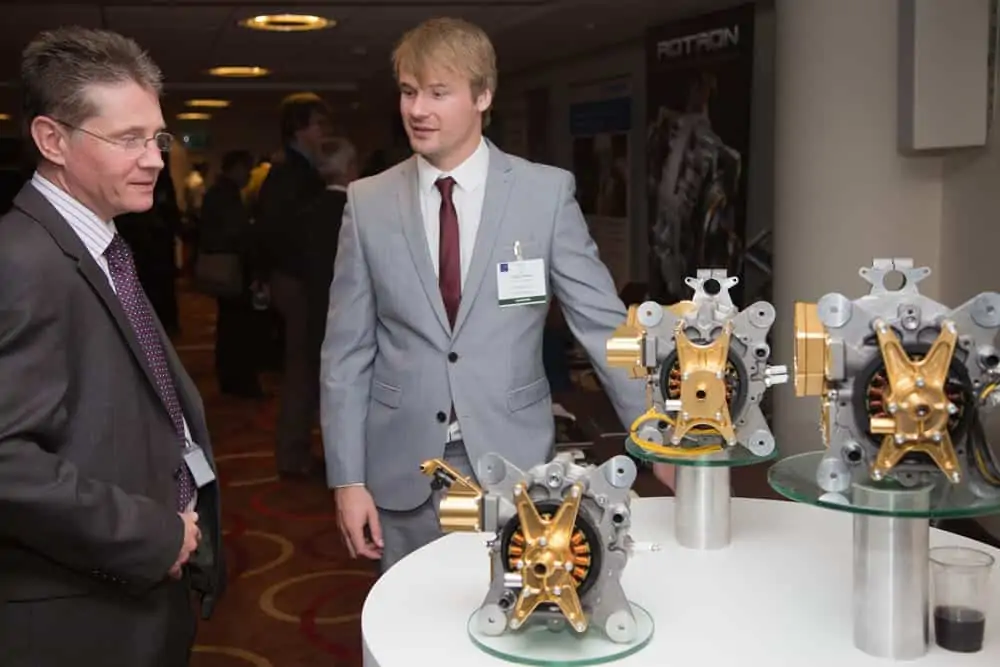 Probably one of the most unusual applications was explained by Pete Cullen of Skyranger. His company provides an environmental charity in Africa with UAS to detect and arrest poachers.
Clarion Events is delighted that UAS 2014 achieved its objectives. Arthur Lovell, Project Lead-UAV at Cella Energy stated 2014 provided interesting and valuable insights into the transition from military to civilian markets." Exhibitor and panel member Nelson Kruschandl from Bluebird Marine Systems was equally impressed with the conference. "It's early days yet but we can confirm that the event yielded a number of useful contacts and allowed us to network with industry captains and officials who expressed interest in the patented technology we are developing," he said.
Event Director, Duncan Reid, concluded: "The programme was compiled with the help of our partners such as UAS CDC and Cranfield University and our thanks go them both. The multitude of applications for UAS and the human ethical factors that arise, as well as the focus on regulatory updates, proved to be a successful and potent mix at this exclusive event."
Once again, UAS will return to Twickenham Stadium for the summer 2015 edition of the event.