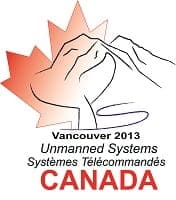 Unmanned Systems Canada has announced highlights of the upcoming 11th Annual Conference and Exposition, which will take place on November 12 – 14 at the Westin Bayshore in Vancouver British Columbia. With the increasing interest in civil and commercial applications for unmanned vehicles of all types (land, sea and air), Unmanned Systems Canada will be continuing the established pattern of bringing together over 70 speakers to address emerging markets and new technologies, both from a users' and providers' perspective, as well as representation from the insurance industry.
This premier event begins with workshops on Nov 12, designed to address three special interest topics in greater detail:
New SFOC guidance material and best practices
Civil/commercial RPAS operations – opportunities and lessons learned
Legal and ethics panel on the use of RPAS.
Workshops are followed by the opening Networking Reception in the Exhibition Hall, sponsored by BC Ministry of International Trade. Honourable Teresa Watt, Minister of International Trade, will be in attendance to welcome attendees.
The main conference program begins November 13 with remarks from the Honourable Andrew Wilkinson, BC Minister of Technology, Innovation and Citizens' Services.
Current and potential future user communities will address the plenary sessions to share their requirements and perspectives. Delegates will hear from representatives from the following groups:
BC Hydro
TV and film industry
Wildfire operations
Wildlife research and management
Exciting underwater operations off the BC coast.
In addition there will be presentations from Transport Canada on upcoming changes to the process for obtaining Special Flight Operating Certificates (SFOC) for commercial operations of UAVs/RPAS, and updates to military programs as well as National Research Council's RPAS initiative. Senior government speakers will include Martin Eley, Director General Civil Aviation, Transport Canada addressing the SFOC workshop and Trevor Heryet, Regional Director, Pacific Region and Colonel Carl Wohlgemuth Commander Air Component Coordination Element (Pacific), Department of National Defence.
Of special note, the Canadian High Commission to the UK, together with the UK's Aerospace & Defence Knowledge Transfer Network, are leading a trade, investment and technology partnering mission to Vancouver timed to coincide with the annual conference. The mission's objectives are to expose the participants to opportunities in Canada, to showcase Canadian technology, and to encourage the meeting of companies and organizations from the two countries in order to explore joint export opportunities, both in their home markets and abroad.
The conference is kindly sponsored by the Government of British Columbia, MDA Corporation, Thales Canada, Cassidian, DRS Technologies, Frontline Global, Canadian High Commission and UK Knowledge Transfer Network.
Details on the full program and workshops can be viewed on the UST event page, on the Unmanned Systems Canada website or by contacting [email protected].