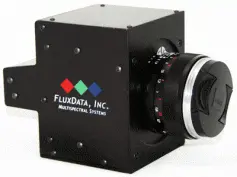 FluxData, Inc., a leader in the multispectral imaging systems industry, today announces the introduction of the FD-1665-UAV 3-CCD multispectral camera for use in Unmanned Aerial Vehicles (UAV) and other airborne applications.
UAVs are increasingly being employed for their ability to carry out a multitude of tasks ranging from short ranged missions to persistent surveillance and FluxData's FD-1665-UAV 3CCD camera adds to the value of these machines by providing superior imaging quality in a lightweight, compact system.
Developed by FluxData's imaging experts, the FD-1665-UAV is a three-sensor imaging system allowing for capture of three discrete video streams, providing for daytime and nighttime imaging with one optical lens. Unlike other systems that require several lenses or multiple cameras, the FD-1665-UAV is capable of integration into a wide array of system applications without being severely limited by size.
Enclosed in a compact and rugged housing, FluxData's patented multi-sensor camera provides high definition (HD) multispectral imaging. Weighing only 1.25kg/2.76lbs (without lens) the FD-1665-UAV is ideal for UAV applications, especially at high altitude. The FD-1665-UAV is offered with a range of lens options for wide angle or narrow field of view. An optional onboard computer with video acquisition and storage allows for plug and play integration into existing payloads. The small size, weight and power (SWaP) provides for smaller payloads that combine multiple detection modalities into a single system and allow real-time image fusion with minimal processing, ideal for many civilian, agricultural, ISR and DoD applications.
In their earlier iterations of the FD-1665 camera, FluxData built a system with similar specifications and capabilities for NASA to be used on the International Space Station where it took images of vegetation for index mapping. Leveraging this experience, FluxData is now offering the FD-1665-UAV in a wide array of spectral options including Normalized Difference Vegetation Index (NDVI) and Visible through Shortwave Infrared.
Pano Spiliotis, CEO of FluxData, states, "I am very pleased to announce the UAV version of the FD-1665 multispectral camera. We have leveraged our seven years of production of the FD-1665 with application ranging from medical, industrial, defense, university research, and space and have extended this now into creating the next generation multispectral camera for UAV and ISR payloads."
With an expanding range of potential uses, FluxData has identified some key applications for the integration of the FD-1665-UAV camera.
Examples include:
Industrial and Agriculture
    Asset Tracking
    Vegetative Index Mapping
    Maritime Traffic
    Oil Spill Mapping
    Pipeline Monitoring
    Weather Monitoring
Maps and Communications
    Global Positioning
    Live Mapping
Law Enforcement and Surveillance
    Border Patrol
    Disaster Response
    Fire Monitoring
    Law Enforcement Assistance
    Persistent Surveillance
    Search and Rescue
FluxData will work with customers to design a purpose-built configuration that meets their specific requirements. Standard configuration systems can be made to order for delivery in four to six weeks.