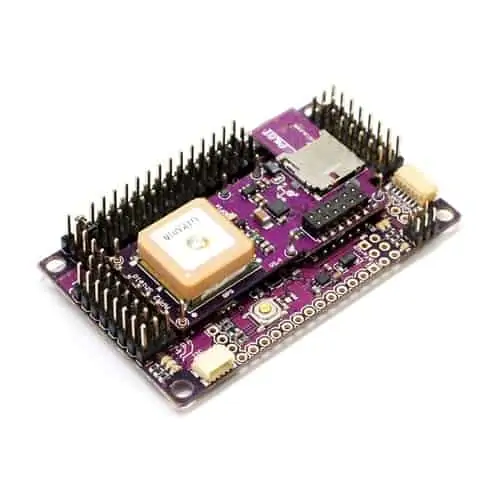 3D Robotics has released its AdruPilot Mega 2.0 AutoPilot. Seen at this year's Bay Area Maker Faire, the APM2 is a complete open source autopilot system.
The AdruPilot Mega 2.0 chip features MediaTek 3329 chip system, serial interface Dataflash memory, digital compass, motion-tracking system, barometric pressure sensor, and many more. It is compatible with the Adruino microcontroller, and only costs $199.95. As posted by 3D Robotics:
"The AdruPilot Mega 2.0 is a complete open source autopilot system, with no assembly required. It allows the user to turn any fixed, rotary wing or multirotor vehicle (even cars and boats) into a fully autonomous vehicle; capable of performing programmed GPS missions with waypoints."
The price is not bad at all since other systems like Adrino's GPS Module Shield that includes GPS module costs $117. For an additional $82.95, users can get a whole lot more capability. This is also ideal for hobbyists, since higher end autopilot systems could cost thousands of dollars.
What's good about the APM2 is that it can be used with free open-source firmware. It can be incorporated in a model plane, rotary-wing aircraft, and ground or water vehicle using the Arduplane, Arducopter and ArduRover respectively.
The APM2 is perfect for use on amateur UAV applications. Amateur UAVs typically fly under "recreational" exceptions to Federal Aviation Administration regulations, as long as the pilot or programmer will keep the aircraft within tight altitude and distance limits. It is manually controlled using Radio Control at takeoff and landing, and switched into GPS-guided autonomous mode when it reached a safe altitude.
Creating a UAV will require a RC plane, helicopter or multicopter; an autopilot system like the APM2, and a payload like a digital camera—although this component is optional. A complete setup is consists of APM2 autopilot system, Mission Planner Software and the aircraft's respective autopilot software.
What makes the autopilot system useful is the fact that it combines the sophisticated Inertial Measurement Unit-based autopilot electronics with free Arduino-based autopilot software. This could turn any RC vehicle into a fully autonomous UAV.
Source: AMOG