Webinar Details
Hosted by
July 29, 2020 , 13:00 (UTC)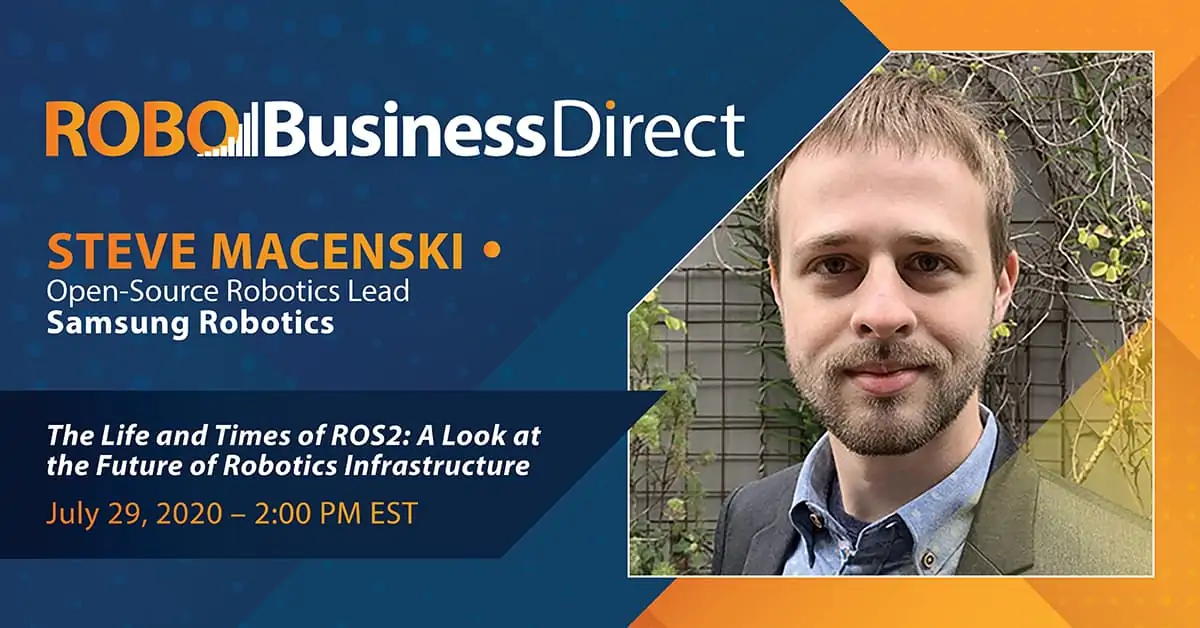 Since 2007, Robot Operating System (ROS) has changed the way robots are built. In an effort to improve ROS to be appropriate for commercial and industrial solutions, Open Robotics released ROS 2 in 2018 supported by leading companies such as Samsung, Microsoft, and Amazon.
ROS2 provides strict messaging guarantees, security, and modern tools for deterministic robot behavior. ROS2 provides for higher-quality, robust solutions for many aspects of robotics development and deployment including simulation, communications, manipulation, navigation and more. Long-term support for ROS is ending in less than 5 years and the entire robotics industry must transition to the new meta-operating system.
In this informative session, Steve Macenski, Open-Source Robotics Lead for Samsung Research, will provide decision makers with critical ROS2 information. The evolution of ROS2 since 2018 will be described, along with current status of ROS2 for professional use. The results of a survey of notable ROS2 users in industry will also be provided, along with a roadmap for the future. He will also highlight notable aspects of Eloquent, the latest release of ROS2.
Speakers:
Steve Macenski,
Open-Source Lead, Samsun Robotics
Steve is the Open-Source Robotics Lead at Samsung Research, where consults for robotics groups and works on flagship open-source projects. He is a member of the Open-Source Robotics Foundation's ROS2 Technical Steering Committee and oversees the development of the mobile robotics ecosystem. His work has been confirmed in use on 6 continents by over 5,000 robots in retail, hospitals, oil and gas, libraries, and more. Prior to his role at Samsung Research, Macenski was the employee #7 and Lead Robotics Engineer at Simbe Robotics, where he developed popular open-source ROS extensions for SLAM and 3D perception for dynamic environments. He also advises early-stage robotics startups leveraging open-source tools. He holds a degree in Aerospace Engineering from the University of Illinois at Urbana-Champaign.
Dan Kara
Vice President, Robotics WTWH Media
Dan Kara is Vice President, Robotics at WTWH Media where he charted with driving the company's robotics and intelligent systems initiatives. Prior to joining WTWH, he was Practice Director, Robotics at ABI Research and Chief Research Officer for Myria RAS, both research and advisory services firms focused on automation, robotics and intelligent systems. Dan was also President of Robotics Trends, an integrated media and research firm serving the personal, service and mobile robotics markets. He was the developer and past chairman of the RoboBusiness Conference and Exposition series, the RoboDevelopment Conference and Exposition series, the RoboNexus Conference and Exposition series, and the CES Robotics TechZone. He holds a MS in Computer Science from Boston University.