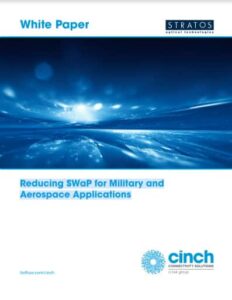 Cinch Connectivity Solutions has released a white paper detailing how size, weight and power (SWaP) footprints can be reduced in military and aerospace electronic designs for systems such as UAVs (unmanned aerial vehicles) and robotics.
Click here to download the full white paper
The white paper covers:
Why SWaP is a key focus for military and aerospace systems
The advantages of fiber optics over traditional copper wiring
Specialized fiber optic transceivers for military and aerospace applications
How Cinch achieves lower SWaP and enhanced thermal management in its transceivers
Transceivers designed specifically with SWaP optimization in mind are often the best choice for military and aerospace system designs. To find out more, download the full white paper here.