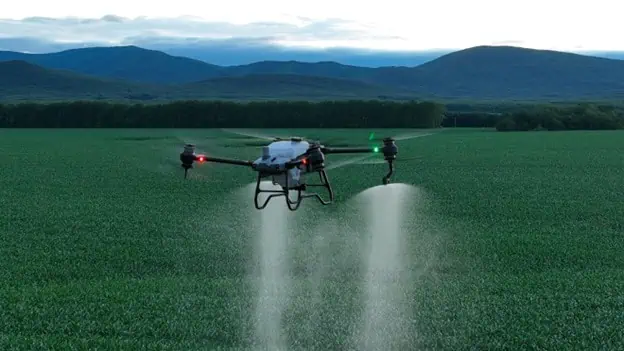 Volatus Aerospace has received a Transport Canada special authority to operate heavy crop spraying drones weighing over 25kg anywhere in Canada.
This special authority enables pilots who are trained through Volatus Aerospace's training program, operating in compliance with Transport Canada's conditions outlined in the approval, to operate throughout Canada.
"The current advanced drone regulations in Canada restrict the flight of a remotely piloted aircraft weighing over 25kg within national airspace, this approval permits Volatus Aerospace to operate a heavy crop spraying drone, which has a maximum take-off weight of 101kg," said Reno Matthews, Director of Regulatory Compliance for Volatus Aerospace. "This unlocks our ability to offer compliant drone crop spraying services across Canada for our precision agriculture clients."
Because of its ability to surgically target plants and provide unparalleled spray control, drone crop spraying has been increasingly adopted worldwide as a cost-efficient and greener method for maintaining crops.
"Using traditional methods, like crop dusting aircraft, is not only costly but imprecise as healthy plants are treated with unnecessary chemicals alongside diseased ones. Drones use less product and can focus only on the plants that need treatment, making it a more efficient, safer, and cost-effective way to maintain crops," added John Johnstone, Sales Director for Agriculture at Volatus Aerospace. "Consumers want less chemicals on their products and it is better for the environment, it is the future of agriculture."
The dispersal of some chemicals is pending Health Canada approval; however, non-pesticide type treatments are largely unrestricted today. Moreover, big Ag companies, such as Bayer, are taking steps to help farmers benefit from these new technologies.