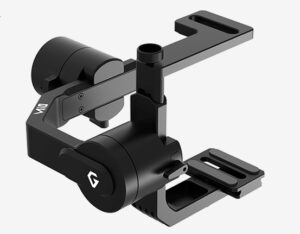 Gremsy has introduced the Mio, a two-axis industrial-grade gimbal that has been specially designed for drone developers and systems integrators. Optimized for small cameras and sensor systems and engineered with prolonged flight time in mind, Mio is ideal for applications such as bridge inspection and wind turbine maintenance, and supports top, bottom and front mounting.
Mio comes with an adapter board that simplifies the integration of the gimbal into drone platforms. The board offers pinouts such as USB 2.0 (Type C), UART, SBUS, PPM, and Micro HDMI, allowing developers to fully leverage the two-axis gimbal's advanced capabilities on their platforms.
A standard damping accessory is available, tailored for seamless front-mounting on small drone platforms and ensuring smooth and stable footage during flights. Gremsy can also provide custom damping systems for users with specific requirements.
Key specifications of the Mio two-axis gimbal include:
Weight: 180g (4 lbs)
Dimensions (D x W x H): 133 x 101 x 94 mm
Max Payload: 400g (0.88 lbs)
Supported Drone Systems: Pixhawk, CubePilot, Skynode
Gremsy is offering an early bird promotion – buy one Mio gimbal and get one standard damping accessory free – running until June 7th, 2023.
Watch a video featuring footage captured with Mio and the Flir Duo Pro R below: