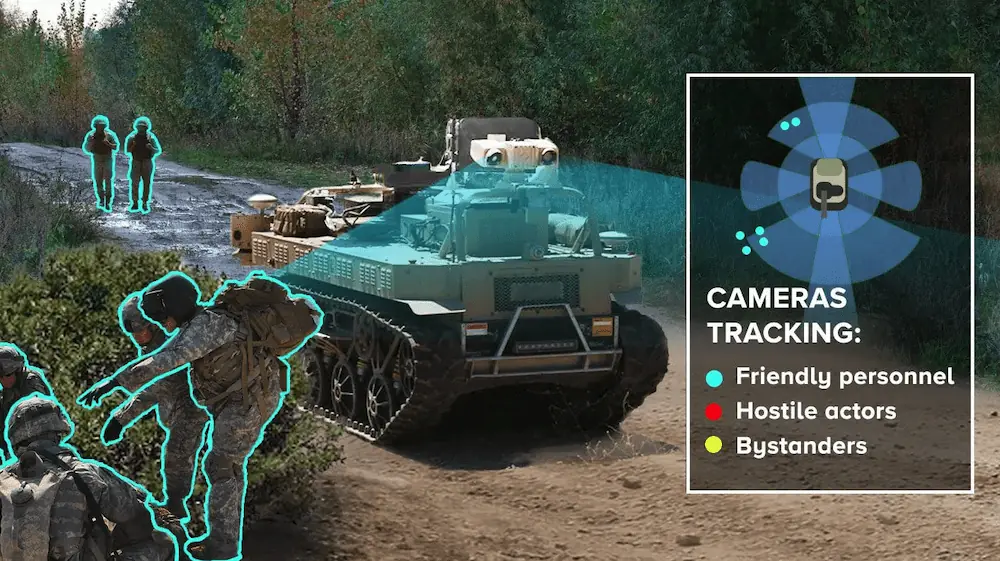 The US Army Small Business Innovation Research (SBIR) program has awarded Charles River Analytics a $1.7 million contract for the development of a personnel safety system for autonomous ground systems.
Operational safety is paramount to successfully deploying driverless systems, as they will operate alongside soldiers, bystanders, and hostile actors. Therefore, these systems must be equipped with a sensing solution to avoid collisions and enemy threats, among other safety concerns.
The Advanced Safety and Intelligent Mobility through Onboard Vision (ASIMOV) system provides day-or-night, 360-degree awareness of personnel. It can continuously track stationary and moving pedestrians while anticipating the movements and intentions of friendly versus hostile combatants. Offering constant surveillance, ASIMOV enables maximum mobility while maintaining the vehicle's safety radius. The system avoids active sensors such as lidar or radar, which can compromise covertness. Instead, it uses cameras and machine learning algorithms to distinguish between friendly and hostile pedestrians.
By improving the safety of automated vehicles, Charles River Analytics expects that the full-scope ASIMOV system will contribute to deploying and adopting robotic combat vehicles throughout the armed forces.
"We are developing fast, robust technologies for reliably detecting and tracking people in challenging environments and situations," said Camille Monnier, Principal Scientist at Charles River Analytics and Principal Investigator on the ASIMOV effort.
Charles River Analytics will be at Xponential 2023 – visit the company at Booth 4942 to find out more.