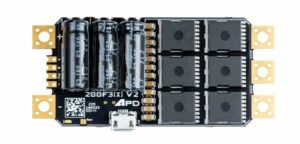 Advanced Power Drives has released the F Series V2 Electronic Speed Controllers (ESCs), enabling some of its most requested features without compromising the flight-proven reliability the F Series is known for. 
F Series motor controllers are compatible with all major drone flight control systems, and are easily integrated into a variety of UAV platforms with plug-and-play installation.
The company designed the V2 F Series ESCs to be a drop-in replacement for the existing units, ensuring a seamless transition for its customers. There is no requirement to firmware update V2 units once delivered to introduce these features.
Version 2 Improvements
The following improvements have been made to the version 1 variations:
All units:
Configuration of drive parameters, signal types and fault handling.
On board bootloader.
Additional Telemetry types: PWM Telemetry and RPM Output.
High-speed telemetry rates (digital protocols).
Reversible drive mode operation support (full forwards to full reverse).
Dynamic signal quality checks across supported input protocols.
80F3[X]v2 and 120F3[X]v2:
Bi-Directional DShot for RPM Filtering support.
Passthrough firmware updating and configuration.
Hardware protection for UART programming pins.