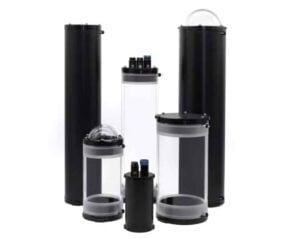 Blue Robotics has launched a new line of watertight enclosures designed for AUVs (autonomous underwater vehicles), ROVs remotely operated vehicles), and other marine robotics platforms. Available in 2″, 3″ or 4″ diameters with a range of length options, the subsea housings are highly modular and configurable, with a variety of tube and end cap options, including dome, blank, and with holes for cable penetrators.
With precision machined O-ring interfaces, a locking cord and anti-rotation feature to secure the flange, and smooth O-ring lead-in, the enclosures are ideal for a wide range of applications, including MATE and Robosub ROVs, subsea batteries, cameras, electronics, data loggers, environmental monitoring, instrument housings, junction boxes, and more.
The clear acrylic plastic tube option makes it easy to see the components inside the enclosure, and is highly suited to subsea development projects and research ROVs and AUVs. The aluminium tube option provides a greater depth rating, opaque appearance, and better thermal transfer for high power applications like power supply housings and battery housings.
The acrylic tubes are cast from optically clear material and the inner ends are precision machined so that despite wide tolerances on the raw plastic material, the O-ring interface is always manufactured to tight tolerances. The aluminium tube options are also precision machined for an excellent fit. A smooth surface finish ensures proper sealing between the O-ring flange and the tube and a smooth O-ring lead-in shape makes it easy to insert the flange without damaging the O-rings.
The enclosures feature a new locking cord that allows you to secure the flange to the tube so that they cannot be separated unless the cord is removed. A small anodized aluminium handle can be attached to make the cord removal as easy as possible, or, to make the enclosure tamper-resistant, you can cut off the cord and cover the insertion slot. This is suitable for finished products that are not intended to be opened by the user.
The watertight enclosures are available through a configuration page that allows you to select a tube, flanges, end caps, vent, and more, or to purchase components separately.