A team from the Warren County Community College Unmanned Systems and Drone Technology program has been selected to provide industry leaders with the latest on drone maintenance and repairs at the XPONENTIAL Conference, taking place April 25-28 in Orlando.
Top instructors at Warren led by president Will Austin will offer two levels of training at the conference which brings together leading international experts who use the cutting-edge autonomous equipment in government, security, commercial and academic ventures, and the nation's defense. Warren, located in northern New Jersey, is a national leader in autonomous vehicle training. The conference provides attendees with the latest evolving information about uncrewed vehicles and an opportunity to chart a course for the new technology.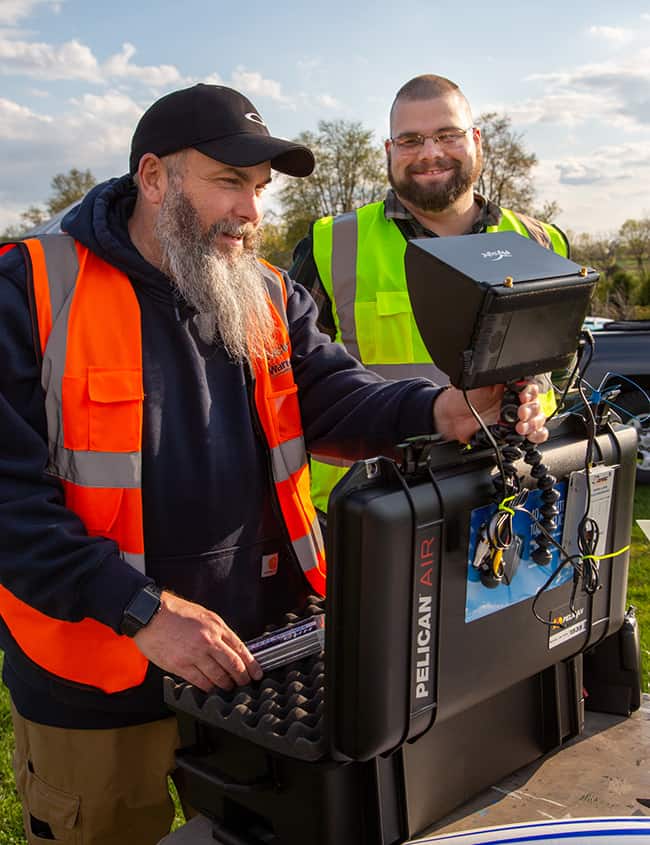 "We all know there are advances in this field every day, and the technology is operating in ways many of us never dreamed possible," said Austin.
"This conference is the nexus for the industry when it comes to the design, manufacture, and use of this technology. But at Warren we're also addressing the inevitable need for maintenance and repair. There has been a gap in that area of this burgeoning industry – and we were invited to address it."
Mike Newell, Maintenance & Repair instructor, demonstrates the process of field-testing equipment to Warren UAS student Ed Beckendorf
The Association for Uncrewed Vehicle Systems International (AUVSI)
The XPONENTIAL conference is sponsored by the Association for Uncrewed Vehicle Systems International (AUVSI), the world's largest nonprofit organization dedicated to this industry. Participants represent corporations and professionals from more than 60 countries in industry, government, and education.
Heather Lee, executive vice president and chief strategy officer at AUVSI, said Warren is a good fit for the conference and explained its reach "XPONENTIAL provides access to a truly unrivaled community. Each year we convene the largest global gathering of professionals – from the C-suite to engineers and policy makers and enterprise end-users. The technology includes everything from vehicles to enabling sensors, and data and drone services. And it's all dedicated to the advancement of uncrewed systems and autonomy, and cuts across every operational domain and sector and more than two dozen vertical markets."
A wide range of educational programming
Keely Griffith, director of industry education for AUVSI, who is overseeing the wide-ranging educational programming at the conference, says training in maintenance and repair is increasingly critical. "Our end-user community is looking for more hands-on training, especially when it comes to opportunities that improve their operations and save valuable resources. With this workshop, XPONENTIAL attendees can enhance their drone repair and maintenance knowledge – up leveling their skills and saving their organization resources in the future," she said. "Repair and maintenance expertise enhances the value that a team member brings to a drone program or organization."
Other breakout sessions and workshops at the conference will focus on topics such as safety, accelerating innovation, government role in implementation, robotics for conservation, cargo and delivery, legal issues, automated goods movement and "moving from proof of concept to scale in autonomous systems."
Griffith noted that one of the breakout tracks titled "Convergence Zone: intersection with business and enterprise users" specifically walks through use cases and best practices of implementing these technologies on the job site to improve safety and efficiency. It is intended to help organizations consider the ROI of these systems and how they can go about scaling.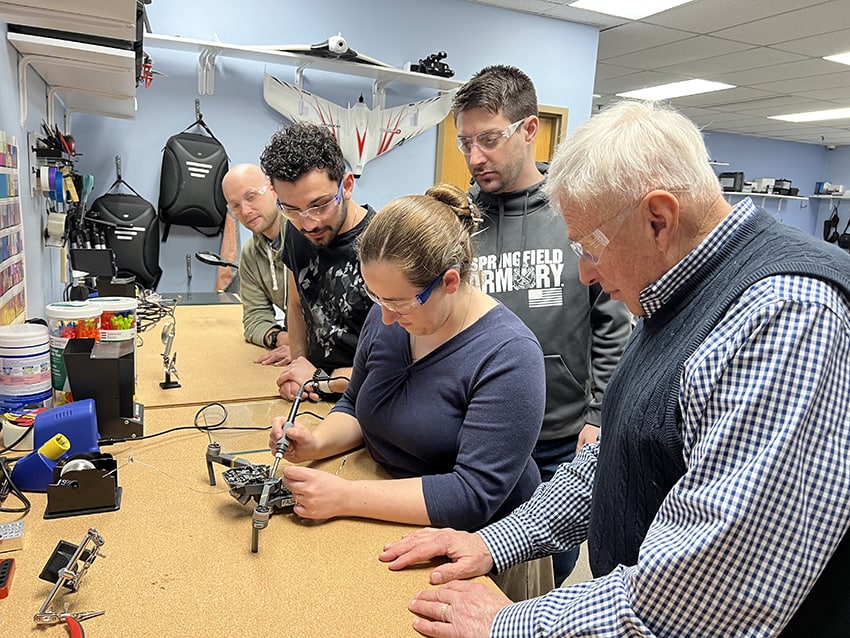 A fundamental understanding of system repairs and maintenance
Warren instructors first will offer fundamentals of repair and maintenance where participants will "learn the basic architecture of unmanned systems, the common schematics for subsystems, and how the components are programmed to work together" and get hands-on training in constructing and repairing drones and learn about the tools necessary. An advanced course will review basic aerodynamic theory, power, propulsion, and sensors and provide a hands-on experience with more sophisticated repair and maintenance tasks and an understanding of more complex equipment. Record keeping and documentation also will be reviewed.
"We are going to provide those participating in the first class with a fundamental understanding of system repairs and maintenance – a function that is quickly becoming essential as a variety of different businesses and organizations put drones to work to handle critical functions," Austin said . "The second workshop will offer those familiar with these machines a chance to gain more sophisticated skills. It is a great chance for those who would like to look inside, but have apprehension, we will be there with a full team to aid attendees."
"Our community has been working for decades to reimagine the way humans work and live," Griffith said. "XPONENTIAL is the only gathering for leaders and end users in every industry to share use cases, experience new technology, strike up new partnerships, and solve real problems." She said the conference mission is to help "develop uncrewed and autonomous systems that safely, securely, reliably, and predictably improve life for everyone".
Austin noted that the Warren workshops fit into that mission. "We train our students in just those areas," he said. "Understanding how to maintain and fix the machines is obviously a key consideration as this industry advances in the way we project. No one will earn a college degree in a day, but attendees will receive a certificate of completion, and should feel a lot more relaxed about maintaining their UxS, and a lot more comfortable using the tools of the trade. We're happy to expand the knowledge we have at a forum like the XPONENTIAL conference."